Have you ever wondered how much time we spend on our mobile devices? By all accounts, the average time we spend on mobile devices is almost 2 hours 57 minutes daily!! This isn't astounding considering the fact that we use mobile apps for every single task right from booking a ride, shopping online, messaging a friend, browsing the web, checking social feeds and even transferring money.
A mobile app can be a money-spinner for your business. It can help you to expand your business reach and users get to know about your products or services. With a good mobile app, you can target a lot of customers for your business and generate new streams of income. However, it's not as straightforward as it seems.
Discovery & Market Research
Before going straight to developing the mobile app you should accomplish a need analysis in the form of market research. Sometimes a mobile app is not needed and these questions will help you decide:
What is the real need for a mobile app?
Can you build a responsive website instead?
Why should your users need a mobile app?
How will your user use it?
Why will these users be motivated to begin using your app, and continue to use it into the future?
If you are launching a business idea, do you have a competition?
How will your business/app be different from your competitor?
What value does your mobile app bring to your user's life?
These questions should help you answer the very first question of deciding to develop a mobile app for your business. Conduct market surveys to validate your idea. Timing plays an important role when launching new business/app ideas. Many businesses and app ideas have succeeded because they were launched at the right time. Keeping in touch with the market and doing adequate analysis can help you succeed.
Sometimes giving your business a turn can be a very valid strategy to being successful. For instance, Kevin Systrom and Mike Krieger put their hard effort of one year to develop an iOS-based, check-in app called Burbn. After launching the app, the team made a wise decision to re-evaluate the market. They had found that they were late to the game as the market was already dominated by Foursquare. After that, they removed all the features, leaving just photo-sharing, commenting and liking. They re-branded their business as Instagram. The rest is just history.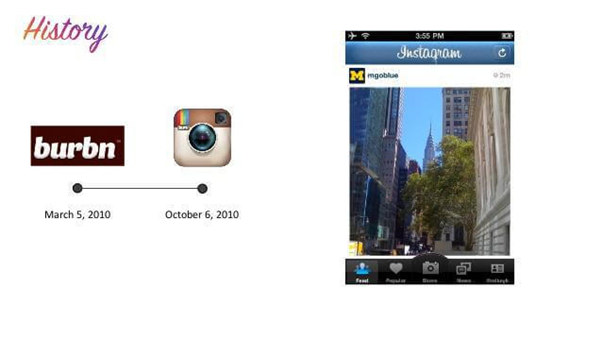 Using Multiple Platforms (iOS and Android)
There are millions of apps on Google Play Store and iOS App Store and sometimes it is quite difficult to decide which platform is really suitable for your App. Are most of your potential user's only one of the platforms or both? Is your app based on features available exclusively on one of the platforms? Will your app in the future be available on both platforms? These questions are very important when deciding on developing the app. Do proper research to decide on the target platforms.
In our experience, we have seen that it benefits the business to have apps on both the platforms as they are equally popular and users have different preferences. Unless there is some feature exclusively available on only one of the platforms, it is better to launch the app on both the platforms.
Working with many customers to get their mobile app launched into stores, we have observed that targeting both the popular platforms i.e. iOS and Android can double your potential customer base. A lot of times our clients think the cost of developing the app for both the platforms is almost double and so they downplay it to keep the costs in check. But there are technologies available today that can be used to develop the app for both the platforms with as little as 20-30% extra cost.
User Experience (UX)
When it comes to mobile apps of today, a poor UX can make or break your Mobile App. Apple has a policy regarding user experience as they check every app functionality and set the parameter for the user-friendly app. A mobile user never gets back to the apps that have a bad user experience. A mobile user has a different view and expects that the mobile app will provide them the best possible user experience. Failing to meet the expectation can cost you.
Netflix is the most popular platform for Movies, TV shows and web series streaming apps in the world, but they keep themselves on toes to keep working on enhancing the user experience for their users. "Continue Watching" is one of the best UX features of Netflix which allows you to start exactly from where you left last time. Although it is a very simple feature but provides an extremely useful user experience for the user.  Good UX is very important for the success of a mobile app and should be paid extra attention.
Focus on Minimum Viable Product (MVP)
It is not always a good strategy to add many features to your mobile app because adding too many features can make it complex and confusing. Adding too many unnecessary features in an app makes it dense and heavy. Sometimes, few but highly useful features make your app more composed, purposeful and easy to understand.
This becomes extremely important when releasing the first version of the app. When planning for the first version of the app it is a natural tendency to add as many features as possible to make the app successful. The thought generally is that maybe some users will like this feature and another user might like another feature so we will cover more user base. This cannot be further from the truth, especially for the first version of the app.  Users behave differently and it is difficult to predict user behavior. The feature development based on user behavior data or user feedback (with iterative approach) will ensure that you are developing what your user wants and needs, instead of assuming and developing features that users might not want or do not need.
Minimum Viable Product consists of only the most important feature of your solution — nothing more or less. MVP always saves resources such as time and money since you're testing the absolute core functionality of your product. Before launching your App, a BETA version can help you to get better ideas to add necessary features. Ask as many test users as you can to test your app's user experience and get feedback as early as possible.
When Google announced Wave, the service was supposed to be a collaboration tool that would have features like email, instant messaging, blogging, wikis, multimedia management and document sharing. It failed!! There were many reasons that led to Google Wave failing but the main reason was adding too many features on a single page. It overwhelmed the users.
Test Early and Continuously
There are many methodologies today for developing software and mobile apps, but one methodology which has been quite effective and proven is Agile Methodology. The methodology is focused on creating software that matters. It places customers (i.e. the user of the software) at the center, which then ensures that the software is developed in accordance with and collaboration with the customer. This helps keep the software development in the right direction.
The Agile Manifesto is a declaration of the values and principles expressed in agile methodology. It is made up of four foundational values and 12 key principles. The first principle of Agile Manifesto is "Our highest priority is to satisfy the customer through early and continuous delivery of valuable software".
The two most important words in the first principle are "early" and "continuous". Early delivery of the software ensures that one is building the software with the required intended features from the beginning. In the traditional Waterfall model approach, the software development process will have different phases with long periods so any misunderstanding in the requirement was discovered very late in the development. The cost of changing the software will be huge.  Agile methodology fixes the issue by the "early delivery" guiding principle.
Releasing the software early for the verification/testing purpose solves one part of the problem. The software also needs to be "continuously" published so the feedback can be continuously given and thus making sure that the development is in the right directions always, and not just in the beginning of the development.
Both Apple and the Google Android platform support publishing test version of the app in the store so you can test the app from the beginning and continuously. Check the articles below to publish your test version on each of the platforms.
Marketing Strategy
In today's world where users are bombarded left and right with advertisements, how does one get "found" in the noise?  After you have developed the app, how do you make sure that users will find your app in the store among millions already there? Only development of an APP is not enough. Without a good marketing strategy, it is difficult for your app to be found by your potential users.
Growth hacking, a term often used now within startups domain is a marketing strategy which aligns the product, marketing and development departments together to develop product features in according to the overall business strategy. This means that you do not do marketing activities after you have developed your product, but marketing and other development activities go hand in hand so that the overall impact of the product effective when the product is launched.
One does not always need to adopt a growth hacking strategy for marketing, but without a doubt, if you want your app to be found in the pool of millions of app then you should focus on the marketing as early as possible in the mobile app development journey. Other approaches can also be taken in addition to better visibility of your app in the market.
Search Engine Optimization (SEO) is a technique used today for the Websites so the businesses and products can be found online. Similarly, App Search Optimization (ASO) is a technique that can be used to have more possibilities (better ranking) of being found on mobile stores.
You can also use a separate web blog section for your product or services so to spread more awareness
Posting on Facebook, Instagram, LinkedIn and other social media platforms will help you gain traction.
Engage in forums that are related to your product/services.
Create a You-Tube channel or videos to update your services or upcoming product details.
In Closing
Between the mobile app development processes, these nine mistakes are committed far too often. One should avoid them in order to ensure the mobile app's success. We are the best mobile app and web development company aimed to produce intelligible and stunning apps and sites for your business. Our developing ninjas are capable of developing the most complex applications, seamlessly. Consider us to be your best technology partner.