Leadership of Desuvit Features in 'Goodfirms'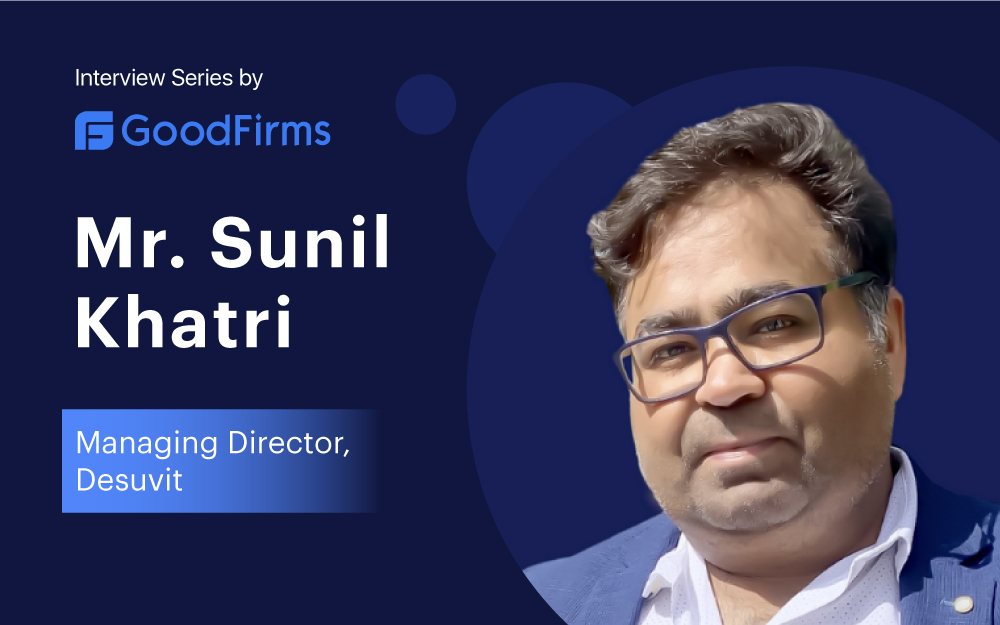 IT is no longer a luxury for businesses, but rather a necessity
Desuvit has "Local presence with Global reach"
"We embrace Cloud technology in order to maximize the platform's benefits."

Desuvit's Managing Director Mr. Sunil Khatri Is on a Mission to Create Flagship Company of the Future: GoodFirms
Desuvit, founded in 2017 and based in Oslo, assists entrepreneurs, startups, and medium-sized businesses in taking the leap and growing through the use of technology. To name a few, the company has assisted Vipicash AS, Inter-Nationals AS, Zyberia AS, Gamified AS, Get Grocery GmbH, nubit GmbH, and ClarityTechUK.
Desuvit's team focuses on custom development, idea and concept development, product development (SaaS solutions), digitization, automation, mobile apps, and web applications/portals.
The company began its operations in 2018 and has since assisted multiple medium-sized businesses in their growth by developing IT solutions, digitalization, mobile apps, and assisting startups in bringing their ideas to life. Over the years, we have constantly improved our processes, technology toolkit, and understanding of our clients so that we can help them grow their businesses in the best way possible.
The founders noticed companies managing projects with high time and resource waste during the development process as professional IT business specialists. They realised that by pooling their technical skills, they could improve quality, communication, automation, and responsiveness. Ergo, through technological business development, they decided to assist medium-sized businesses in growing, saving time, and increasing profits.
Looking to such accomplishments and work ethics, GoodFirms team approached Desuvit's Managing Director, Mr. Sunil Khatri to know more about the company, his role, and robust solutions & services.
Starting with the interview, Sunil mentions that we have continuously improved our processes, technology toolkit, and services over the years. Through technological business development, we understand our clients and help them grow, save time, and increase profits.
Further he says that, I am the company's Managing Director, and I am in charge of the company's growth. I ensure that all departments within the company, such as sales, marketing, human resources, and technology, are all aligned with the company's vision and mission.
He also adds, "I am the binding force between the clients and my team because I have vast experience in technology and a good understanding of business." Having worked on numerous small and large IT projects, I am able to optimise software development in terms of both time and quality, which is extremely valuable to our clients.
In addition, as a co-founder of another SaaS company, Betty24, Sunil gained experience in making ideas a reality. Adding to this, Sunil beams that I assist entrepreneurs, startups, and medium-sized businesses in taking the leap and growing through the use of technology, as well as in developing good SaaS solutions. To name a few, I've worked with Vipicash AS, Inter-Nationals AS, Zyberia AS, Gamified AS, Get Grocer GmbH, nubit GmbH, and ClarityTech UK.
Sunil elaborates on the company's origin story, stating that IT is no longer a luxury for businesses, but rather a necessity. IT has evolved into a critical tool for the expansion of any business.
We noticed, as professional IT business specialists, that small and medium-sized businesses do not have easy access to these IT specialists. Companies do not take advantage of the growth boost that IT can provide due to a lack of an IT department or IT knowledge.
We realised that by combining our technical skills, we could assist medium-sized businesses in growing, saving time, and increasing profits through technological business development. Desuvit was founded because we believe that all businesses should have the opportunity to grow through technology and development.
Talking about the Desuvit's business model, Sunil mentions that we emphasises "Local presence with Global reach." We've realised that in order to succeed with our clients, we need to understand their culture, language, and working style. Because our clients are currently located in Scandinavia and Europe, we require a local presence in order to provide the best services. At the same time, in order to be cost-effective and have a larger pool of IT expertise for our clients, we need a global reach, which Desuvit has in India.
Coming to the services rendered by the company, Sunil mentions the IT solutions development services. He explains that a reliable IT Solutions Partner is essential for your company's success. It is not an easy task, and you must ask the right questions before making a long-term commitment. With over 95 years of team experience and over two decades of developing IT solutions, our team understands how to leverage the power of modern technologies, processes, and tools to ensure the IT solutions developed are both cost and time efficient.
Sunil further explains that today, the cloud is the ideal way to deliver applications — and the preferred solution for businesses expanding their infrastructure or launching new innovations. We embrace cloud technology in order to maximise the platform's benefits.
We have been developing IT solutions for a long time and understand how to design solutions that are extensible for possible future needs. We build a strong architecture foundation to ensure that we can add new features to the platform in the future. As a result of providing long-term support to customers after the development phase, Desuvit has grown to become one of the top IT services companies in Norway at GoodFirms.
Concluding the interview, Sunil elucidates that We have an in-house team of IT technology experts from various fields. We've enlisted the help of experts in mobile app development, web app development, and other digital technologies. We prioritise our customers. We aim to assist our clients in achieving their objectives by understanding their requirements and providing smart IT solutions. We strive to go above and beyond our clients' expectations.
We believe in developing long-term, trusted relationships with our clients that go beyond the scope of a business transaction. Building a trustworthy relationship takes time, and we are willing to go the extra mile to achieve it.
Our clients have been repeat customers, and they have requested that we develop digital solutions for them. Almost 90% of our clients have returned to us for additional services.
Thus, having gone through the above-mentioned excerpt from Sunil's interview one can also read the detailed one published at GoodFirms
About the Author
Working as a Content Writer at GoodFirms, Anna Stark bridges the gap between service seekers and service providers. Anna's dominant role lingers to form every company's achievement and critical attributes into words. She strongly believes in the charm of words and equips new approaches that work, always with concepts, something new to create, and something unique to enhance the firm's identity.