We are living in an era of apps. For any business to succeed, a creative mobile or web application is how you can improve your scalability and reach new heights. So, how do you start doing that? You combine forces with the best app development tool in the market!
The web or mobile app development software you choose calls the shots on the quality and capabilities of your app. If you pick the right one that meets your requirement, you can expect high ROIs in exchange for a small investment in the tool.
So, here is a list of 5 must-try tools to give you a headstart on your search for the perfect app development tool for you.
React Native is an emerging open source app development tool brought to you by the one and only, Facebook! Its unique JavaScript technology enables developers to take on cross-platform app development.
React Native also takes into consideration if you are new to the app development game. It uses a set of building blocks that map out your development process, from A to Z.
If you can stretch out your budget, you can spring for a native app development tool like Xamarin. Xamarin uses native APIs to optimize apps for the specific platform of choice.
So, you can build attractive apps for iOS,  Android, and Windows users. With Xamarin's native interface, your app will always look and behave exactly the way you envisioned it.
The fact that Xamarin is a Microsoft product speaks volumes. Safe to say, you will have the assurance of a tool that uses high-grade security and technology to keep users engaged with your app!
What's better than an HTML (WebView) mobile app? A mobile app that can work on any platform!
Ionic is an HTML5 mobile app development software that can build hybrid apps that will work for all major app stores.
One of the biggest benefits of Ionic is that it uses a single code base. You no longer have to stress yourself over the coding process! With Ionic, you can dream big and create highly interactive hybrid apps with easy-to-use web technologies like SASS, CSS, and HTML5.
Google has entered the app development game with its new open source technology, Flutter. Flutter allows you to create native apps for Android and iOS devices, using a single codebase.
Its programming language called Dart is compiled into native code, ahead of time (AoT). So Flutter can communicate with the native platform without going through a JavaScript bridge.
Native Script as an open-source framework can be used to create cross-platform apps for Android and iOS. Native Script can make truly native apps with frameworks JavaScript, TypeScript, Angular, and Vue.
Since most developers are familiar with these frameworks, they can easily create apps without wasting time on training. So, the reason for Native Script's popularity is the fast transition from prototype to the final native app running.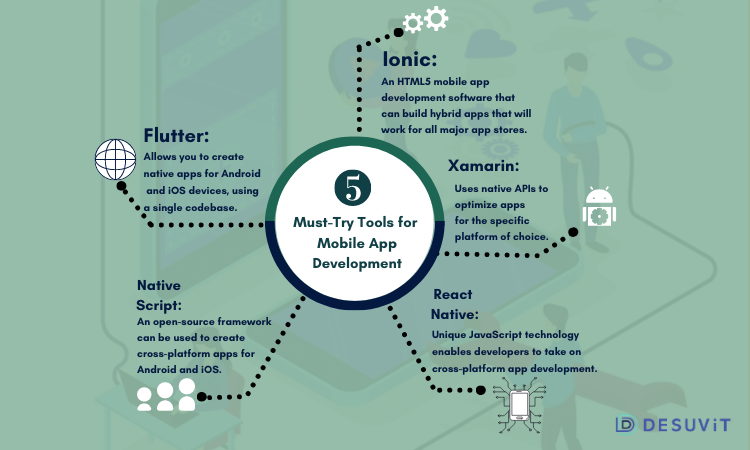 Summing Up
The first step to creating a quality app is finding a development tool that is cost-efficient and constantly updating its technology.
The Mobile app development can also be classified as Hybrid App, Native Apps and Cross-platform Apps. To finalize the technology for your next Mobile app, read our blog about the differences between these different types of apps to make an informed decision.
You can do your research or take the help of a mobile app development company to pick out the tool that meets your requirements in terms of functions and features.
With all this in mind, you will be ready to take on the world of app development! If you are looking for a service that can help you with your mobile app UI design, please reach out to us! Desuvit is the way to go in order to create something phenomenal.
Desuvit is a Norway-born software development company delivering Custom Software Development, Mobile Apps, and Web Applications Development for various verticals and business domains. We offer end-to-end solutions for companies with no software or IT division, Startups, and companies that need to scale their software development efforts but lack the expertise required. We help our clients in growing their businesses so we can grow with them. Some of the technologies we work with: .Net, Azure, Microservices, Azure functions(Serverless computing), React Native, Flutter, React JS, TypeScript, Angular, NServiceBus, Azure Service Bus, Azure Queues, SQL Service, MySQL, Cosmos DB, etc.
Enjoyed this article? Subscribe for more valuable and great content !
Enter your email address below to get new articles with valuable content delivered straight to your inbox, plus special subscriber-only content to help you with your next mobile app or software development project.
By subscribing, you agree with our privacy policy and our terms of service.