Businesses and brands are rapidly transitioning their services into mobile application-friendly formats. This is simply because consumers have become more mobile than ever.
So, it is imperative for businesses to focus on mobile app development that seamlessly caters to their audience's needs.
Currently, the Google Play Store and the Apple App Store house over 4.27 million applications. Yes, that is an unbelievable figure. Moreover, this number will only rise since more companies are developing apps to sell their services.
However, not all these apps will succeed. There may be plenty of reasons why apps would fail. It may be because of poor design, lack of research, or simply a weak launch strategy. Thus, it is crucial to avoid these mistakes while developing an app.
Ensuring the success of a mobile app is a challenging task. By taking note of these five pointers, businesses are better equipped to develop and launch a successful application.
1. Lack Of Authenticity
The more the apps, the more the competition. Due to the availability of millions of apps on the internet, it isn't easy to find something unique to cater to. Thus, it makes it tough for developers to design an app that does not already exist.
With a market saturated with apps with similar interfaces, services, pricing, and audiences, it is important to be as authentic as possible.
When a business launches an app, research and due diligence play a huge role in determining the kind of app that needs to be built. This process involves competitor and market analysis to understand the strengths and weaknesses of the best apps out there.
Once you get an idea of how to better your competitors' app, you can start planning on what will differentiate your app from theirs. Thorough market research will help you find out about consumer's specific needs.
For instance, you wish to develop a beauty store app. Since there are several of those already existing, how will yours stand out? It needs to have something that attracts users. Here, you may add a 'try it on' feature, a chat-box makeup instructor, etc.
2.   Unsatisfactory User Experience
When users download an app, convenience is the driving factor. So, users need more than just seamless functionality in an app. They want apps to offer an enjoyable and hassle-free experience.
Simply put, apps should serve a specific purpose and provide a seamless interface with additional features. However, some app developers don't get this as they develop applications with unnecessary features, annoying advertisements, and confusing options that weaken an app.
Such elements frustrate users, and they delete the app out of annoyance. If developers design with the mindset of a user, they would be able to create apps that have user-friendly interfaces, seamless performance, and amazing features.
All of this is possible only with the help of UX experts who employ a design thinking approach and analyze the target audience well.
It's not possible to get the user experience perfect in the first attempt since it is a blend of several technical and psychological aspects. UX not only makes users happy but also increases your conversions manifold.
So, if you go the extra mile in understanding your users, your research will prove fruitful when you work on the app.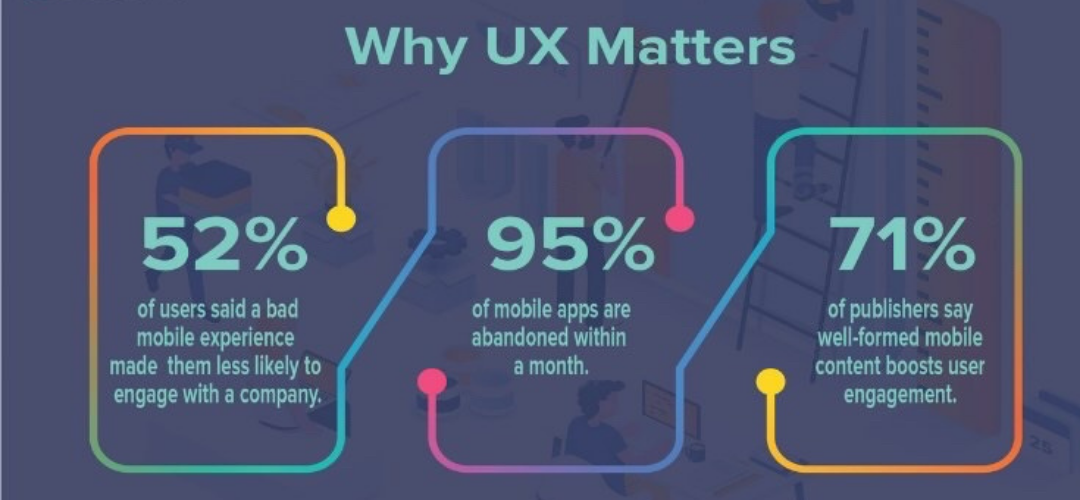 3. Failure To Understand The Base Operating System
Two of the most common and widely accessed mobile operating systems are iOs and Android. So, app developers develop apps in accordance with these systems. Most brands try to produce apps that are compatible with both systems; however, some have their preferences.
It is alright to choose one platform or the other to launch your app, but it is necessary to design an app that meets the needs of that specific OS. iOS and Android have unique commands, buttons, gestures, and prompts. The difference in these aspects for the two platforms is important one and users prefer the app that looks, feel and work natively on the individual platform.
Moreover, users tend to get frustrated when there are unnecessary changes that do not blend well with their operating system. Often, users lose interest in an app and move on to competitors simply because the latter is better suited to their device and operating system.
To keep the cost in check often it is desirable to use a single code base to target multiple platforms. Hybrid Apps and Cross platform apps, unlike native apps gives you the tools to use the same code base which can be deployed on various platforms. Hybrid Apps use HTML and CSS to achieve this but makes it very difficult to achieve native look and feel of the individual platform. The app UI/UX works like a website and thus fails to blend it like a native app. Since it is developed using standard HTML/CSS, the cost and development time of developing it is low but UI/UX does not blends with the platform. Cross platforms apps give you best of both worlds by keeping an almost single code base resulting in native look and feel of the app on both the platforms. You should weigh the pros and cons of both approach and decide which technology to choose.
4. Poor Testing
User experience is a crucial element of app development. During app creation, it is natural for developers to deal with errors and bugs in the code. While this may seem easy to fix initially, it can pose problems later on.
When apps malfunction, they not only receive terrible reviews but also result in getting uninstalled from users' devices. So, testing your app during and post-development is essential for its success.
If your app crashes due to negligible issues that could've been rectified with tests, it can lead to users never using the app again. Once you test your app's functionality and performance multiple times, it is partially ready to hit the market.
Testing also involves user testing. This means that real users should be allowed to check your app and its interface before you launch it. Such testing will enable developers to get thorough and genuine feedback about the app's functionality, design, and overall feel.
Furthermore, this information can help you make necessary changes to your code, which allows you to launch a perfect final application.
5.   Bad Marketing Strategy
Now, considering all the above mistakes have been avoided, and the perfect app has been developed, there remains an aspect that can make or break your app's success.
App developers have learned the importance of a good marketing strategy the hard way. Simply put, you need to market your app even before you launch it.
Additionally, you need to keep advertising your app and its oh-so-amazing features so that people can't wait to download it. This involves posting videos, reviews, ads, etc., to grab users' attention.
Most companies use social media for marketing their apps or stick to pay-per-click ads as well as App Search Optimization (ASO). So, your marketing strategy needs to be one that not only shows the value of your app but also describes its benefits to the consumers.
Endnotes
App development is a tedious task but can be done right if certain mistakes are avoided. Once an app developer thinks in terms of user experience and convenience, it becomes easy for them to create apps that impress.
Thus, the mantra for success lies in consistent effort, market research, design thinking approach, and mindful allotment of resources. With these tools in hand, your app is ready to thrive!
If you want to avoid failures and successfully develop a mobile app, Desuvit is the way to go! Reach out to us to get started on your mobile app development journey.
Desuvit is a Norway-born software development company delivering Custom Software Development, Mobile Apps, and Web Applications Development for various verticals and business domains. We offer end-to-end solutions for companies with no software or IT division, Startups, and companies that need to scale their software development efforts but lack the expertise required. We help our clients in growing their businesses so we can grow with them. Some of the technologies we work with: .Net, Azure, Microservices, Azure functions(Serverless computing), React Native, Flutter, React JS, TypeScript, Angular, NServiceBus, Azure Service Bus, Azure Queues, SQL Service, MySQL, Cosmos DB, etc.
Enjoyed this article? Subscribe for more valuable and great content !
Enter your email address below to get new articles with valuable content delivered straight to your inbox, plus special subscriber-only content to help you with your next mobile app or software development project.
By subscribing, you agree with our privacy policy and our terms of service.