With each new year comes exciting new trends and changes. Technology is one such sector where dynamicity is a constant. Furthermore, software development for the purpose of digital transformation is becoming integral to every industry worldwide.
Since software development directly impacts vital functions, it is essential to see what lies ahead of us. So, here is a roundup of the trends and advancements in software development that are set to help various sectors thrive in 2021.
Robotic Process Automation
Several companies are currently working on Robotic Process Automation for seamless operations. RPA is being used to achieve efficiency in workplaces and for effective task management.
Robotic Process Automation is also used for repetitive and monotonous actions that machines can perform instead of people. For instance, operational tasks like employee onboarding or conducting reviews can be done through RPA instead of manually.
RPA is a crucial advancement in the industry since it can assist professionals in managing a greater volume of tasks. Moreover, it also helps enhance the speed at which people work. So, through ML chatbots or other automation programs, RPA can assist seamless innovation through extensive research and strategy.
Rise of Python and Machine Learning
Python is one of the most popular and efficient languages in the industry; Python has seen consistent growth over many years. As machine learning and AI-powered development increase, languages like Python will become crucial tools.
While several developers focus on other complex languages, Python is a fast-growing language that is used extensively across industries. It offers a very low entry barrier along with a helpful community.
So, with the new generation of developers, Python is set to rise further.
Digital Transformation Enablers
Often organizations feel the pressure to digitize every aspect of functionality. From workplace management to consumer experiences, digitalization has made its mark everywhere.
Essentially, digital transformation converts traditional or human-centric functions or tasks into digital forms. While this may sound fascinating, it requires an established mechanism to yield maximum benefits.
Now, it is vital to keep up with the market when it comes to digital transformation. Complete transformation may take several years to happen. However, this process can be accelerated by investing in different tools.
Such investments boost the innovation cycle and allow companies to implement seamless workflow.
AI-Backed Development
Several development platforms have implemented AI-powered systems to enhance the ease and efficiency of development. Most companies and brands are incorporating AI into their user experience strategy.
Artificial Intelligence assists developers in checking codes so that they can develop better programs and applications. Moreover, research shows that developers can save a lot of time while developing mobile applications through AI.
AI provides information collected from more than 15 million apps and patterns to offer suggestions for logic flows. It can also detect when developers are unable to perform an action or are stuck.
Here's where AI offers in-time assistance and knowledge to facilitate the development process. Essentially, it acts as a mentor for developers and always offers valuable guidance.
Growth of Cloud Computing and Edge
Edge computing, an efficient and decentralized infrastructure, holds great potential for the near future. Fog computing or edge computing is highly effective for tackling issues faced due to cloud computing.
Since cloud computing is crucial for organizations, most multinational corporations are transitioning into cloud network solutions. However, cybersecurity threats are equally on the rise and demand a more secure and distributed platform.
Additionally, the global cloud service revenue is expected to touch a whopping 266.4 billion US dollars this year. Edge computing is also forecasted to grow since companies would like to make the shift to cloud computing by the end of this year.
Progressive Web Applications
Progressive Web Applications are trending currently. These applications include features of both native applications as well as website accessibility. However, they do not involve app stores.
PWAs are equipped to work offline, access the device hardware, send notifications, as well as create a compelling user experience. Such UX is quite similar to desktop and mobile apps without the need to update frequently.
Furthermore, PWAs are developed way quicker than native applications. They use only one codebase across all the devices and can also be found using search engines. Most importantly, these are all very light apps and are often less than 1MB in size.
Continuous Integration and Delivery
Continuous Integration and Delivery can digitize the entire process of testing and integrating changes as and when they get developed. This speeds up the delivery of software changes as well as amplifies feedback loops during delivery.
Additionally, detecting issues becomes quicker, making it easy to rectify them. Given the increasing digital transformation in different industries, CI/CD is equipped to impact your organization significantly.
You can utilize CI/CD to speed up several processes. Besides, you can also assess and improve upon changes immediately.
Innovation and Rapid Prototyping
Innovation can arise out of any place or situation, so organizations are focused on providing fitting rewards for their employees to encourage innovation and creative solutions. Innovation is undoubtedly an indispensable tool since it helps organizations beat their competitors.
If a company limits innovation, they are prone to slow growth and a monotonous work environment. However, to promote innovation, it is necessary for companies to adopt low-code programs and platforms along with prototyping tools.
Such tools help in transforming ideas into solutions and demos. These are also called minimum viable products or MVPs that provide companies with a fair idea of the application. This way, organizations across different industries can ideate, innovate, and create with ease.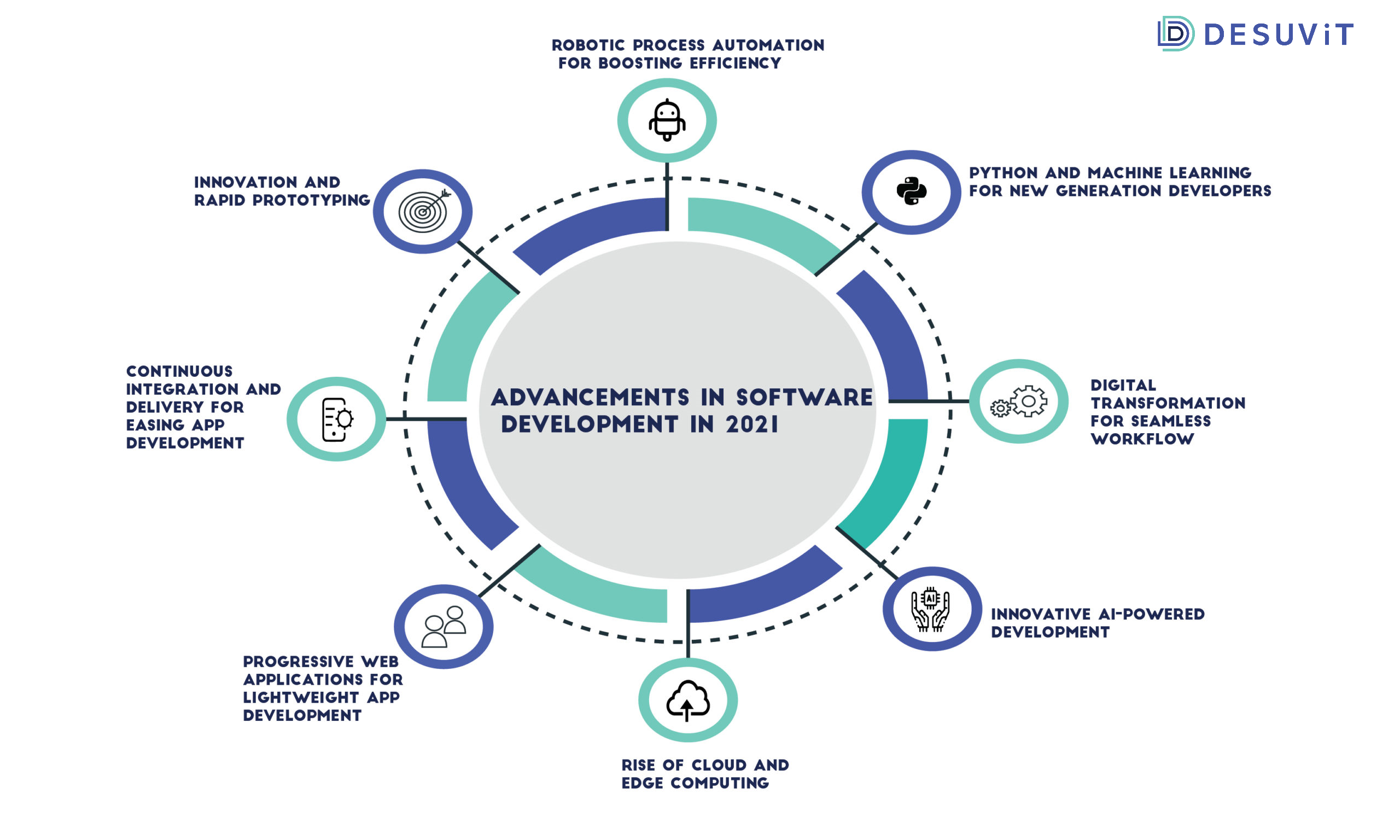 Summing Up
Technology is as fascinating as it gets. Besides new and exciting technology, the IT industry, alongside other verticals, can expect inspiring innovations, disruptive thinking strategies, and more in 2021.
Here, companies can take the valuable assistance of IT Solutions companies to accelerate their digital growth.
By partnering with a leading IT Solution company, you can develop software to yield exceptional benefits.
Desuvit is a Norway-born software development company delivering Custom Software Development, Mobile Apps, and Web Applications Development for various verticals and business domains. We offer end-to-end solutions for companies with no software or IT division, Startups, and companies that need to scale their software development efforts but lack the expertise required. We help our clients in growing their businesses so we can grow with them. Some of the technologies we work with: .Net, Azure, Microservices, Azure functions(Serverless computing), React Native, Flutter, React JS, TypeScript, Angular, NServiceBus, Azure Service Bus, Azure Queues, SQL Service, MySQL, Cosmos DB, etc.
Enjoyed this article? Subscribe for more valuable and great content !
Enter your email address below to get new articles with valuable content delivered straight to your inbox, plus special subscriber-only content to help you with your next mobile app or software development project.
By subscribing, you agree with our privacy policy and our terms of service.