We have developed many mobile apps and one thing we have noticed is that mobile app development is just a blank canvas where you can add anything. Either make it beautiful and meaningful or make it worse.
If you are thinking about building a mobile app for your business, you must know exactly what it takes to execute and how. A recent study shows that mobile users are spending 87 percent of their time in apps, versus just 13 percent on the web. (comScore) and the usage grows every year.
Increasing the number of mobile users is a turning point to develop more Apps according to users' interest and activity. We are seeing that desktop internet is falling, and mobile internet users are increasing every day. Thousands of apps are released per day and downloaded by the users. The growth revenue chart is showing that the projected revenue to download the Android or iOS app may hit $188.0 billion by 2020. And by 2022 there will be 258 billion downloads of mobile apps. These numbers are projected to increase with a 45% growth rate over the next 5 years.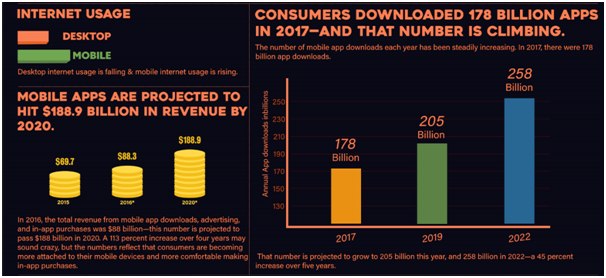 source- https://sensortower.com/blog/top-apps-games-publishers-2018
Having a mobile app for your business is becoming more and more important for business success. Whether it be scaling a well-established business or scaling up a new business, having the right mobile app strategy is a key enabler for business success.
Preparation before starting the Mobile App Development journey.
Consider these things before starting your mobile development journey.
What do you want your mobile app to achieve? A clear vision will help you keep focused.
Who and where is your target audience or users? For example: If most of your users are on iOS (or vice versa) then you can prioritize one of the platforms to keep development costs within your budget.
How do you want or make your app user-friendly? If your target audience is teenagers then the design and interaction should reflect and appeal to them. If the target audience is senior people, then the app interaction should be such that it can be intuitive for the user to use the app.
Did you check what your competitors are doing? Do they have apps or not? If yes, what feature or services do they offer?
Did you decide your overall app development budget? This will also guide you to define a Minimum Viable Product (MVP) for your app.
What is your timeline or deadline for development? When are you planning to launch your app? Time to market is quite a critical factor for the product/app success.
How will you market and promote your app? With about 1500 apps released on iOS App Store and over 3000 on Google Play store, right marketing/promotion strategy is key to have your app reach the target audience.
If you still did not do so already, put together your app development team with members from relevant departments, and hash out the information you gathered during the research and discovery phases.
How to Establish Mobile App Objectives and Goals
This is a critical step in the planning phase of your mobile app. Once you have decided to develop an app with advanced and important objectives, you need to figure out how your app will get you there.
How much is this helpful for your customers?
What features and modes will it include?
What is your app's main appeal?
In many cases, your decision-making about your app's features and benefits must be a balancing act between your overall project budget and time to market. However, when it comes to arranging functionality, research shows that app design and improved customer journey should be emphasized on user engagement over exclusive services.
Once you reach this stage, you should have a pretty much idea about what your app will look like and what features you want to include in it. You should also have developed a scope of work (MVP) – which pieces of the process will be performed in-house and which can be contracted out. Now it is time to start sketching out your app and creating a storyboard.
Your goal at this point is to create a clear map of how your ideas and projected features will fuse together into a functional application. You should also be careful about what point of interaction should be in your app. Keep these tasks in mind when you sketch:
Opportunities to incorporate your brand loyalty.
Focus on the user experience and user interface.
Know about the differences in the way people use a mobile app/mobile website.
Think of how you can release the features incrementally.
These are important points to think about and plan before you even start the development journey. Having a clear goal and idea about what you should expect from the mobile app will ensure that you are on the right track when the development starts.
Are you in need of a reliable mobile app development company to cater to your needs? At Desuvit, you will find an expert team of mobile app developers with years of experience in the field.
Reach out to us and let us kickstart your mobile app development journey. Let us build something exceptional, together!
Desuvit is a Norway-born software development company delivering Custom Software Development, Mobile Apps, and Web Applications Development for various verticals and business domains. We offer end-to-end solutions for companies with no software or IT division, Startups, and companies that need to scale their software development efforts but lack the expertise required. We help our clients in growing their businesses so we can grow with them. Some of the technologies we work with: .Net, Azure, Microservices, Azure functions(Serverless computing), React Native, Flutter, React JS, TypeScript, Angular, NServiceBus, Azure Service Bus, Azure Queues, SQL Service, MySQL, Cosmos DB, etc.
Enjoyed this article? Subscribe for more valuable and great content !
Enter your email address below to get new articles with valuable content delivered straight to your inbox, plus special subscriber-only content to help you with your next mobile app or software development project.
By subscribing, you agree with our privacy policy and our terms of service.