Are you a leading business professional constantly striving to gain a competitive edge? Perhaps you are a leading software developer looking to level up.
With new advancements stirring the technological world by the hour, staying in line with the trends holds the utmost importance. Developing, selling, or buying, irrespective of the domain you belong to, keeping abreast with the upcoming innovations gives you a significant edge.
The current number of mobile apps mounts up to 3.48 million on Google Play and 2.22 million on App Store alone. Google Play released 88.5 thousand apps of these in February 2021 itself.
How will your app stand out amidst the cut-throat competition? Check out the top 16 mobile app development trends in 2021 regulated by consumer demand and innovative launches to lead the race.
Types of Technology
1. Artificial Intelligence (AI) and Machine Learning (ML)
The AI and ML technologies have already made their entry into the tech market. From your smartphones to everyday digital tools, you can find applications of AI in several aspects of your daily life.
But the app development market is yet to unravel a large segment of possibilities through these advancements. Yes, Alexa and Siri are the first examples you think of when it comes to AI, but that is not it. Developers also use AI and ML at the production stage of their apps. From the development to the performance, these technologies enhance the way mobile applications function without any glitches.
Some of the AI and ML trends to expect are:
Object identification and tracking
Fixing app problems in real-time
Geophysical features
2. Chatbots
Chatbots have been performing excellently well straight from the time of their introduction to mobile apps and websites. They notice a customer's experience and allow businesses to cater to their consumers' needs in a value-added manner.
Besides providing exclusive customer service, chatbots also learn patterns of customer behavior. It further helps organizations customize a consumer's experience according to what is needed. Though chatbots have only made a small fraction of the market so far, you will see them around more often.
Check out the upcoming chatbot trends:
Chatbots for customer payments
Understanding queries in a human-like manner
Voice searches
3. Wearables
Do you love the Apple Watch on your wrist? It is highly convenient indeed, and still, you do not see it on many wrists.
That is because wearable devices are yet to reach their maximum competence. Such devices include fitness bands, trackers, etc. Moreover, you can expect a host of mobile apps functioning around these devices or exhibiting integration features, at the least.
According to a report, the wearable tech market will grow at a CAGR of 17.65% from 2020-2026. Now that's a massive leap.
Here are some trends in the wearable segment:
Devices tracking health levels
Sensors in footwear and clothing
Assistant in contact lenses
4. Internet of Things (IoT)
The massive internet network has facilitated your research capabilities and holds the potential of easing your daily activities. From connecting your mobile devices and home appliances to integrating your vehicle, the Internet of Things (IoT) offers various revolutionary facilities. Moreover, you will see its presence in healthcare equipment, cybersecurity devices, and other such commercial and non-commercial domains.
In the coming times, IoT will work towards enriching productivity, agility, and security through:
Big Data, AI, and IoT apps
Smart home maintenance
Industrial manufacturing
5. 5G
From video streaming and gaming to real-time conversations, every domain is expected to benefit from the advanced 5G technology. Moreover, developers will design mobile apps around the network. The network is sure to provide a significantly better speed, lower traffic, and, resultantly, higher efficiency.
The 5G network has taken over the world rapidly. 5G subscriptions have reached up to 554 million and are projected to hit 3 billion in 2025.
Here are a few 5G trends to expect in 2021:
5G and improved IoT
Low latency communication in healthcare
Autonomous vehicles interaction with 5G integration
6. Augmented Reality and Virtual Reality (AR and VR)
Have you had the brilliant experience of watching a video that seemed live in front of your eyes? Well, in 2021, you can expect much more from AR and PR technology. Apple's ARkit and Google ARcore are just the beginning of a new-age revolution. The upcoming trends will include full-fledged mobile apps based on AR and VR instead of a small integration. And it will not be limited to videos and gaming.
Some of the exciting upcoming trends of AR and VR include:
Healthcare equipment and processes
Virtual learning
Live events like fests and concerts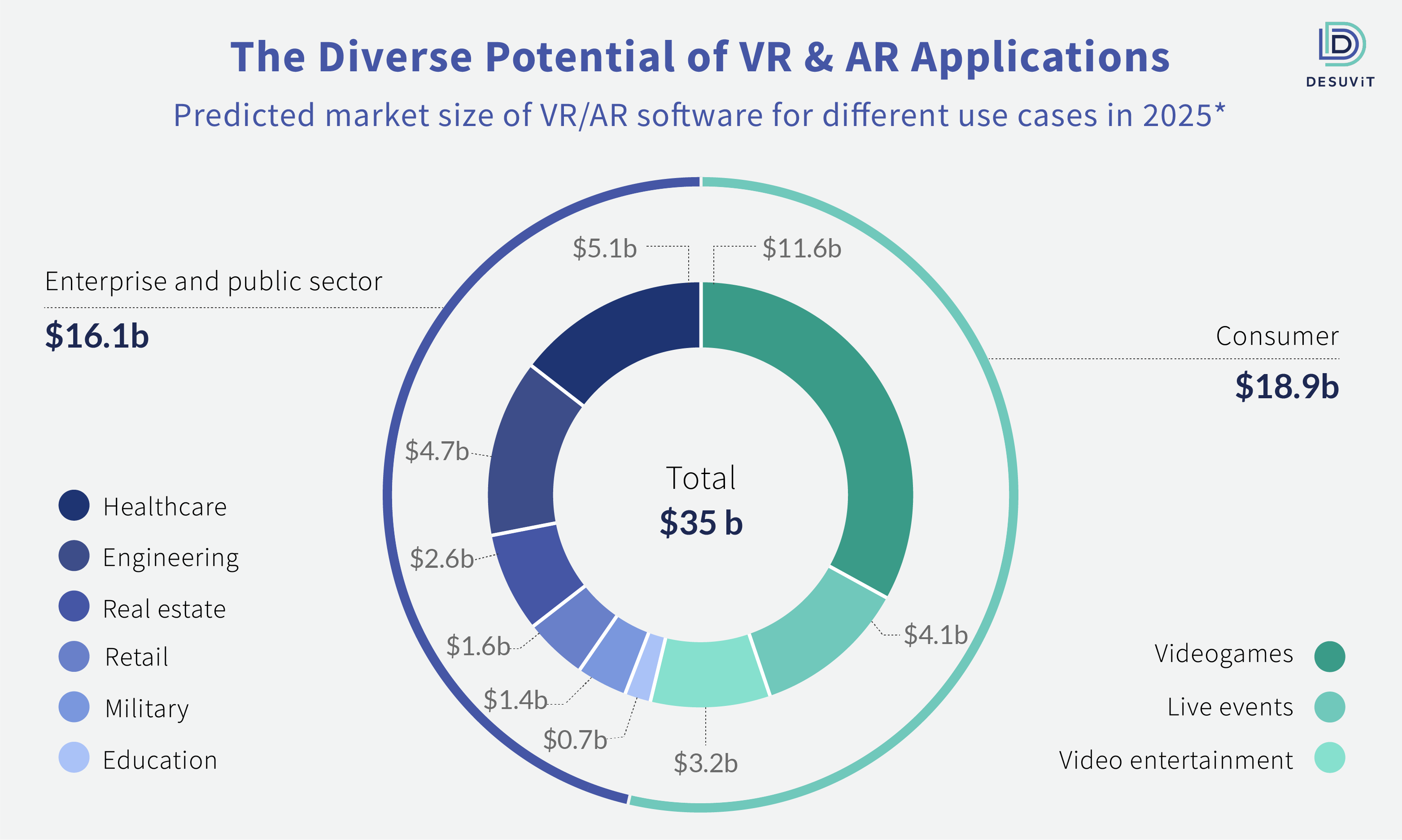 7. Cloud Computing
From iCloud to Google Drive and Dropbox, cloud computing technology has existed for years. It is like your personal bank of data storage. Still, this top-notch technology trend has not been realized to its full potential. Well, it surely will be in 2021. So far, 92% of organizations already use cloud computing technology to some extent. Owing to its data storage and security assurance, you will see more of it.
Some of the cloud computing trends to expect are:
Hybrid cloud adoption (more than one provider)
Cloud gaming
Virtual cloud desktops
8. Big Data Analytics
Predictive analysis has helped businesses gain a competitive edge and stay in line with changing consumer needs. It is like a blend of ML, AI, and data mining, producing productive insights. Big data allows developers to closely monitor the elements that consumers consider helpful and work upon those with less traffic. In a nutshell, it provides magic numbers to understand where the app went wrong.
In 2021, developers will use big data in improving the overall user experience by solving problems, anticipating customer behavior, and presenting offers. Just the way biggies like Netflix, Amazon, and Starbucks do!
Some interesting uses of Big Data are:
Providing customer sentiment insights
GPS-enabled devices
Behavioral analytics
9. Blockchain
Well, blockchain is not only limited to Bitcoins and other cryptocurrencies. It is a pioneering technology providing the highest level of security, found in a host of mobile apps – decentralized apps (Dapps). It works by transferring information from one node to another, forming an irreversible chain that an outsider cannot break. The information in each of these nodes is stored at different locations, which is practically impossible to crack.
Blockchain solutions have already seen a significant rise in multiple industries, with its global spending standing at $6.6 billion.
The blockchain trends to expect in 2021 include:
Cross-border payments
Identity security
Frauds and money laundering tracking system
10. Biometric Authentication
Biometric authentication has much more to do than using your fingerprints for marking your attendance at the office or just unlocking your smartphones. It has way more potential than it. One of the best uses of this technology is logging into crucial apps like wallets and other vital ones. It ensures top-notch security for your transactions and other personal data.
Besides fingerprint and face recognition, the trends will include iris and hand scanning, voice recognition, etc.
Some other future applications include:
Online banking
Immigration service portals
Vein and Gait recognition
11. Beacon Technology
Is it a new name, or have you come across beacon technology before? Well, believe it or not, you have. A beacon is a small transmission device that tracks your presence and sends out relevant information to your smartphone.
For example, you will get the latest offer on your favorite brand when you cross its showroom. Sounds interesting, right? You are going to see more of it shortly. This will significantly help businesses serve their consumers in a better way.
Upcoming trends of beacon technology include:
Revolutionized equipment security systems
Supply and logistic updates
Real-time physical games
Types of Apps
12. On-Demand Apps
From instant taxi service like Uber to getting groceries at your doorstep from Amazon Fresh, you are already using multiple on-demand apps.
Developers have developed many on-demand service apps in almost every industry, including healthcare, fitness, entertainment, and more. Researches show on-demand home services market will rise by $1,574.86 billion during the 2020-2024 period. This service is already in high demand, from streaming services like Netflix and Prime Video to food delivery apps.
You will see its presence in more sectors soon:
Everyday needs
Telemedicine
House cleaning
13. E-Commerce Apps
Mobile e-commerce sales are already rising and are expected to hit a whopping $3.56 trillion in 2021. Within this, m-commerce will make almost 70.4% of the total e-commerce sales.
Be it millennials or Gen Z, consumers wish to purchase products from anywhere at any time. Mobile commerce provides them the liberty to shop without any boundaries. With the increase in mobile devices, this rate is only going to amplify significantly.
Mobile e-commerce apps will see changes like integration of robotics, ML, AI, VR, and AR in the near future:
One-click ordering
Voice-based shopping
Chatbots
14. Business Apps
Have you already opted for the ground-breaking automation tools to transform your business? From HR to finance and accounts, mobile enterprise apps have hit the market with a bang.
These applications help streamline workflow and improve efficiency and help understand and serve the customer better. From gaining consumer insights to providing efficient services, mobile enterprise apps are on a profitable rise. Business apps foster communication among the employees and facilitate long-distance partnership programs.
Pattern analysis in manufacturing units
Real-time information about product status
AR guiding end-users
15. Geo-location Based Apps
From Uber and Zomato to Tinder and Facebook, you may have already come across multiple geo-location-based apps. In 2021, watch this trend amplify. These apps tailor the customers' experiences according to their respective favorites. As a result, they ensure a flawless, highly satisfying experience to consumers and help businesses gain insights into the customers' preferences.
Apart from location-based services and other existing benefits, here is what to expect from these apps:
Preferable recommendations
Travel apps
Gaming apps
16. Mobile Wallets
Consumers love paying on the go with mobile wallets instead of the traditional payment methods. As a result, the trend is expected to rise at a CAGR of 26.93% from 2020-2025. That is a significant growth rate, and why won't it be. From AliPay to ApplePay, the world is increasingly opting for m-wallets. Additionally, the growing service apps using digital payment gateways are further increasing the use of this method.
That being said, the industry still has space for exciting possibilities:
Voice-based payments
Radio-frequency identification payments
NFC and QR code integration
Bonus: App Trends Based on Industry
That was an exciting list of mobile app development trends expected to hit the digital world with a bang. How about grouping them according to major industries? Check out these insightful trends and plan your development strategies to ace the app game in 2021!
Summing Up
With the consistent rise in smartphone users and advanced technologies, the potential for mobile app usage is significantly high in 2021. Whether you wish to develop apps integrated with cutting-edge tech advancements or adopt one for your business, consider Desuvit, your long-term partner.
With years of industry experience, we will provide valuable support in catering to your IT needs from initiation to completion. Contact us, and our team of experts will help devise a plan tailored for your specific business needs. Rest assured of quality service with high cost and time efficiency.
Desuvit is a Norway-born software development company delivering Custom Software Development, Mobile Apps, and Web Applications Development for various verticals and business domains. We offer end-to-end solutions for companies with no software or IT division, Startups, and companies that need to scale their software development efforts but lack the expertise required. We help our clients in growing their businesses so we can grow with them. Some of the technologies we work with: .Net, Azure, Microservices, Azure functions(Serverless computing), React Native, Flutter, React JS, TypeScript, Angular, NServiceBus, Azure Service Bus, Azure Queues, SQL Service, MySQL, Cosmos DB, etc.
Enjoyed this article? Subscribe for more valuable and great content !
Enter your email address below to get new articles with valuable content delivered straight to your inbox, plus special subscriber-only content to help you with your next mobile app or software development project.
By subscribing, you agree with our privacy policy and our terms of service.