Businesses are often hesitant about hiring IT services as it is assumed to be a  high budget. However, employing an effective IT Solutions provider will eventually prove to be more cost-effective in the long run.
Expenses for IT services vary based on the kind of business you own, the network criteria, as well as other requirements. So, why does your business require IT services?
With a 4.8% rise in IT expenditure among small and medium-sized businesses, it is evident that IT services are slowly gaining prominence. When you hire experts to manage the IT front, your network and systems are frequently reviewed and issues promptly solved.
Professional IT services will also ensure that your software is updated regularly. They will make sure you receive prior warnings about any potential problems. If you're not convinced yet, here are 7 reasons why your business absolutely needs IT services!
1.   Getting IT Benefits
Whether it is a small business or a growing start-up, network connectivity and hassle-free technical infrastructure are pivotal to its day-to-day functioning. Moreover, having proper technical guidance ensures successful operation and smooth workflow.
Since IT services have become a crucial part of every industry, businesses must be up to date with their tech support services. Additionally, they must be aware of the benefits of professional IT services in managing customer relations, resolving unexpected breakdowns, and better IT systems to bring efficiency.
The most prominent example that emphasizes the importance of IT services is the 2020 COVID-19 pandemic. This entire period of utter chaos brought the world's remotest corners closer through efficient cloud and networking solutions.
This pandemic saw the rise of the online era with virtual interviews, schooling, weddings, and even medical consultations! So, if you want your business to put up a worthy fight compared to competitors in the market, investing in IT services is a must.
2.   Saving Time and Money While Increasing ROI
The primary objective of any business, regardless of its niche, is to make money and maximize profits. Naturally, no enterprise would invest too much into any software or service that does not offer lucrative returns.
However, when you hire expert IT services, you invest in services that pay for themselves every time a hardware or software problem arises. This way, you're not burdened with hiring repair services each time an issue occurs with the network or any computer device.
Thus, IT support services will provide you with round-the-clock solutions for your network as and when you require them. Moreover, these solutions are available for a wide range of network and hardware issues, so you don't have to worry about future expenses.
3.   Setting up Excellent Customer Support
If you are a start-up, customer service is crucial for your business's growth. However, stellar customer service will remain only a distant dream if you don't have the correct technical infrastructure in place.
When you face sudden network issues, you will require efficient IT support solutions so that you can deliver reliable and seamless customer service support to your clientele. Your website, email, and chat services will function smoothly and hassle-free with the correct tech setup.
4.   Securing Your Business and Network
All businesses across various industries depend on data for smooth operations. Essentially, your data can make or break your success story. However, this data is available on the web and other networks, making it susceptible to multiple risks.
Having reliable IT support services is crucial to protect your data. Moreover, effective IT support solutions secure various transactions for customers and associates to avoid future problems.
If your business is met with any unforeseen circumstances, you can effortlessly recover your lost data with the IT solutions team's assistance. This team will ensure that you are substantially supported with backup systems and multiple layers of cybersecurity.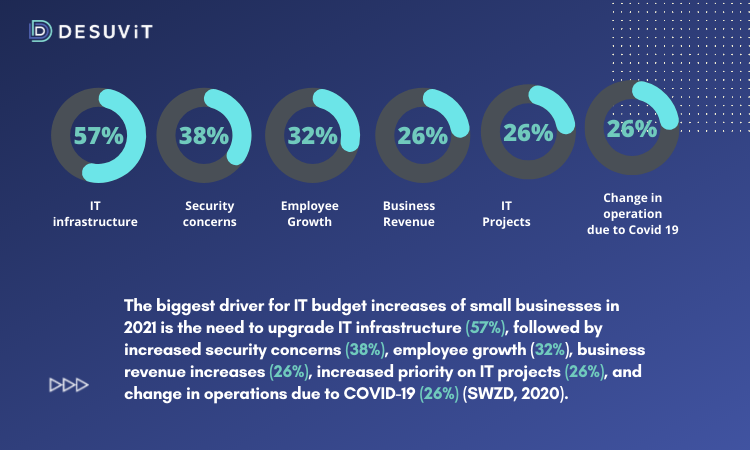 5.   Managing Time Effectively
When you're running a small business or start-up, you don't always have a smooth organizational structure. One team member is tasked with several roles and does not have the time or resources to manage the IT front.
Here's where professional IT support solutions come into play. When you hire expert IT support services, you unburden yourself from maintaining IT infrastructure, network, and data. Today, with affordable IT solutions, you don't have to spend an excessive amount all at once. Instead, you can avail of monthly packages at a reasonable flat rate for all network and hardware solutions.
6.   Enhancing Efficiency
IT support does not always mean fixing problems when they occur. Instead, expert IT support services allow you access to the latest industry updates and excellent technology upgrades. These upgrades improve your workflow and help you with business and customer needs.
Tech support maximizes your productivity and overall efficiency as you utilize IT solutions to reach your goals quicker.
Moreover, the right tech assistance helps you get the best returns. It enables you to track, target, and avail of the best opportunities in whichever field you specialize.
7.   Optimizing Growth
Your business can only grow if you make the right decisions for its operations. The functioning of your business depends on several factors, but most importantly, customer satisfaction.
If your customers don't like the product or service and cannot communicate their feedback, your business is most likely failing. To avoid such problems, you need professional IT assistance that provides you both hardware and software solutions.
With a seamless IT solutions team in place, you can conduct your business in an orderly manner and communicate with your customers with ease. Moreover, you can track your data and detect issues before they become a bigger problem.
Summing Up
Technology is fast becoming the supporting pillar for businesses worldwide in this modern-day and age. IT solutions have reigned supreme as the most vital investment criteria when companies identify their goals and targets.
Essentially, IT support ensures your business's efficiency and helps you meet the client's expectations. Plus, the proper tech support will enable you to save money in the future and give your team access to the best tech upgrades.
So, if you're struggling with technology needs, then Contact Us; now is the time to hire professional IT services from Desuvit to seal your business's success.
Desuvit is a Norway-born software development company delivering Custom Software Development, Mobile Apps, and Web Applications Development for various verticals and business domains. We offer end-to-end solutions for companies with no software or IT division, Startups, and companies that need to scale their software development efforts but lack the expertise required. We help our clients in growing their businesses so we can grow with them. Some of the technologies we work with: .Net, Azure, Microservices, Azure functions(Serverless computing), React Native, Flutter, React JS, TypeScript, Angular, NServiceBus, Azure Service Bus, Azure Queues, SQL Service, MySQL, Cosmos DB, etc.
Enjoyed this article? Subscribe for more valuable and great content !
Enter your email address below to get new articles with valuable content delivered straight to your inbox, plus special subscriber-only content to help you with your next mobile app or software development project.
By subscribing, you agree with our privacy policy and our terms of service.