In barely over a year, COVID-19 has changed the way companies used to do business.
A Mckinsey study confirms that the companies have adopted digital transformation for internal operations and supply-chain interactions for at least 3-4 years. Further, the share of digital-enabled products has been accelerated by 7 years.
COVID-19 has silenced all the doubts and concerns lingering behind the acceleration of digitization for business longevity.
The contactless world is promoting employees and customers to interact virtually. And the digital operation is the only way out for a business to succeed in restricted activity and mandated shutdowns.
Continue reading to find how digital acceleration helps businesses to thrive as a result of COVID-19.
Who is Responsible for the New Digitization?
The whole world is experiencing an impending depression/recession, an economic slowdown, and a high unemployment rate.
COVID-19 has made forced shifts within the world that feel cataclysmic and sudden. But, it allowed the business to turn digital and find the new normal.
For business, it becomes essential to adapt to cloud-based solutions. In the progression towards digitization, cloud-based solutions are available for everyone, not just modern or forward-thinking enterprises.
Taking Part in the Digital Advantage
Upon embracing digital solutions, the organization understands how to face competition and adversity. It enables them to chase growth and pivot from playing resistance.
Since the pandemic, digital processes have witnessed a rise in customer experience by 15%, cloud spending by 80%, and 30% digital transformation.
Let's understand the digital advantage for the organization as a result of COVID-19.
Agility is the new normal: Building the in-cultural flexibility to change and adapt any course at any point in time. It helps to manage data-driven insights to act and make decisions faster.
Advantage to the customer: Mining customer data helps to uncover and monitor the emerging demands of the customers.
Security Benefit: Organizations have become cautious of cybercrime and resilient to protect confidential information in the present scenario.
Rise in Productivity: Employees are ready to work in a remote environment. Organizations leverage tools and technology to maximize productivity while sustaining company culture.
Efficiency Results: The organizations collaborated with digital technologies to automate manual processes and streamline operations. It allows for more revenue-generating activities to provide faster speed and less waste.
Digital Solutions to Cope with COVID-19
The entire world has undergone isolation due to COVID-19. The only way to curb the virus spread is through maintaining social distancing. That being said, we need to avoid human contact that forms the basis of our lives.
Digitization has tried to bridge the gap between social distancing norms. You would not have been able to study, work and connect without digital technology and tools.
Let's understand how digital technology can help keep businesses and society afloat even during a pandemic.
Devising Digital Health Solutions
The healthcare system of the world, especially America, turned digital to curb the coronavirus spread. Remote diagnostics and telemedicine help patients with timely diagnosis and medical advice at home. Also, 3D printing promoted the production of medical supplies, including PPE kits. Information-sharing becomes the best preventative medicine in the absence of a vaccine.
In Europe, digital strategies were employed to highlight the importance of digital tools in the wake of Coronavirus. From contact tracing to ensuring that Europeans stay safe and connected, national contact tracing and warning apps were voluntarily installed to warn users of nearby affected people.
Platformification
What solutions do organizations and institutions have to stay above the water due to COVID-19? It is to try their luck with different digital platforms. For instance, education systems are conducting virtual classes. The fitness groups are utilizing streaming services to conduct both pre-recorded and live virtual classes.
The digital platform may be temporary for some businesses, and they may shift back to a traditional model once the crisis abates. In contrast, other companies might choose a hybrid approach when they identify the advantages of recurring revenues.
Digital Content Consumption
Digitization is not limited to business. Home entertainment is gaining more popularity as people begin to stream on OTT platforms. About 51% of internet users worldwide are using streaming services, as per Statista data. Further, there were 16 million new user signups for Netflix at the beginning of 2020.
Omnichannel Commerce
The markets are closed, no stores or street vendors can sell their goods to customers. In this scenario, eCommerce gained significant prominence. Everyone, including those who were historically reluctant to use online platforms for shopping, has changed their mindset to meet the essential requirements of life. For example, a site like Instacart is in demand for grocery delivery services.
Now, businesses are blending both digital and physical worlds to offer their customers the best experience without coming out of their homes. The idea of contactless delivery and curbside pickups is making digital-physical integration a part of the new normal.
Remote Working
In a survey by Owl Labs, about 30 percent of US employees used to work remotely 24 hours/365 days a year. And the other 70%, out of which 38% is the workforce employed to work at offices. So, the transition from office to full-time remote working has taken aback many working individuals.
However, there is a silver lining. The high percentage of the remote working population has improved digital collaboration. It helped make workers comfortable using the digital tools and let go of the hesitation of using these tools for work.
Focus Areas of Digitization as a Response to COVID-19
The businesses that were on the verge of going digital before the pandemic began are at the most vital position maintaining smooth business operation.
The problem arises with companies that have bandwidth constraints, especially in the Work From Home environment. They are unable to keep up with consumer demand due to inflexible legacy processes and systems. The government running COBOL raised many concerns and issues among citizens asking for social assistance.
Another problem faced by IT companies was that they could not provide an individual laptop to their employees. That resulted in interrupted operations and implementation delays.
So, where should digitization focus on streamlining the process during COVID-19? Let's discuss.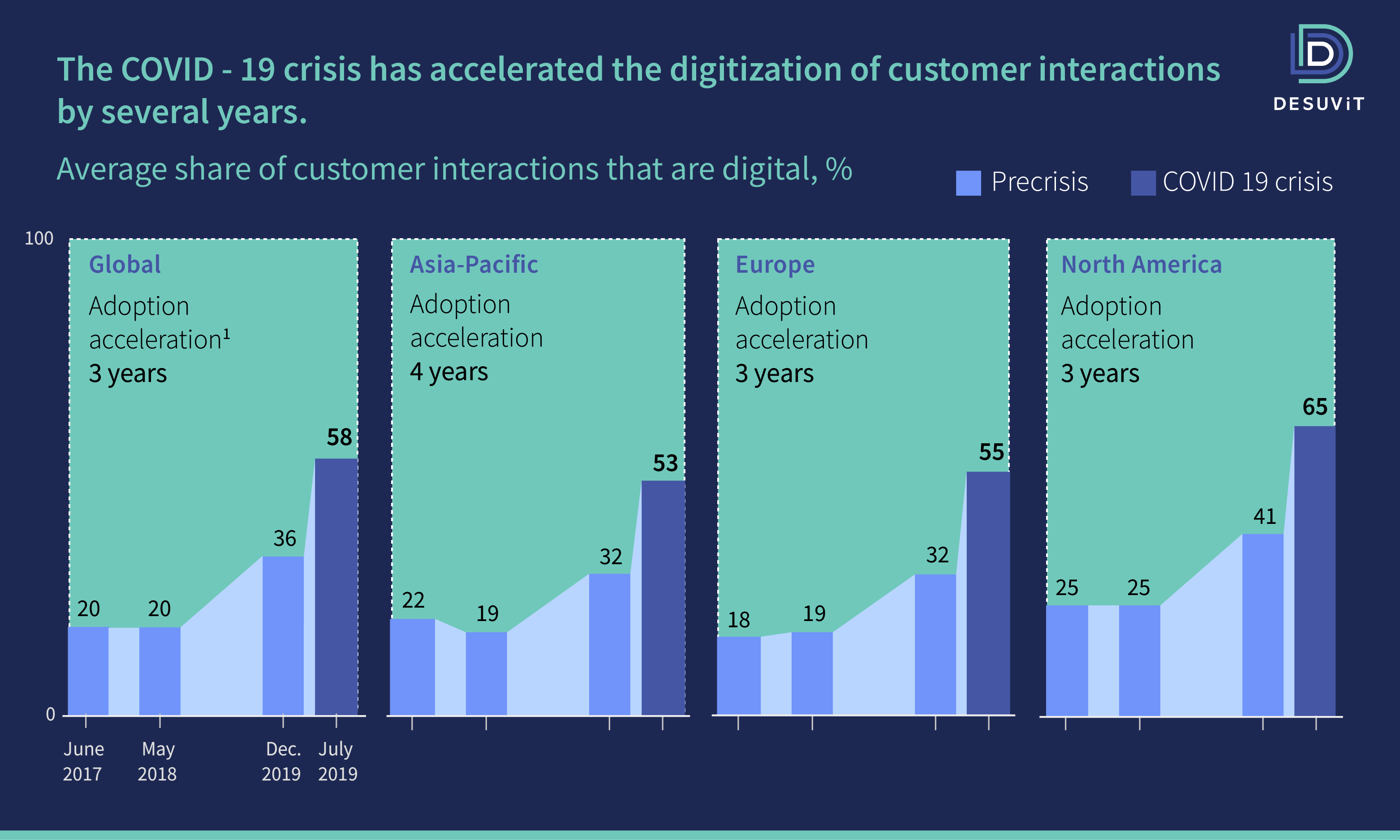 Source: McKinsey
Improving Cyber Security System
WFH transition would mean a significant rise in cybercrime. Recently, Zoom was accused of a lack of security measures.
That's why many businesses are adopting virtual fences to keep up with the private system. If you can make sure that only the right people have access to your crucial resources, then you can maintain a secure environment.
Identity and Access Management systems can help companies create a secure and safe working environment. So, COVID-19 is getting perceived as a harbinger that enables organizations to focus on resilient and agile business processes.
Prepare for Technology Implementation
The stage will incorporate the adoption of cloud technology and virtualization. Virtualization will help the organizations to scale the IT resources dynamically as and when required. Further, it provides effective control and a centralized management system.
Cloud technology has been in trend for years in IT services. Many big organizations adopted cloud technology to transfer data and promote scalability, redundancy, and flexibility to run IT systems effectively.
What's the benefit? It will minimize the cost of on-site support, firmware upgrades, power, and hardware as the cloud providers take care of it. One example is SaaS (Software-as-a-Service) which displays how the cloud can offer reliable and simplified access to applications.
How to Maintain the Momentum of Digitization?
When organizations and technology work together, they can maintain many digitization aspects. Some of these include the following.
Flexibility
During the pandemic, some digital controls were relaxed for fast online processing and sped up the implementation process for WFH employees. The idea was to provide an effortless platform, but it can result in new risks in the digital and cyber world. The controls require re-application with proper levels over time. Nevertheless, the process controls have to be flexible to adjust with the "New Normal."
Right IT Team
For an effective digital transformation, every business and technology requires the right technician. A qualified professional can comprehend and make you understand the valuables and functionality in old digital processes. Next, they can incorporate the new technological processes for future benefits.
Proper Funding Processes
If businesses want advanced digitization projects to get implemented, a proper investment plan is required. Investment is highly uncertain due to the unpredictable business climate in the world. Therefore, the Executive would be required to display their projected value of digitization initiative when requesting funding. The funding will include both long-term and short-term benefits.
Re-engineer Digital Processes
Every organization should know the pros and cons of digitizing the process. It is crucial to evaluate whether you can re-engineer or re-organize a digital process to produce excellent business results. If that doesn't take place, most organizations will risk implementing digitally flawed processes. However, it requires broader thinking of just installing new software or ramping up bandwidth.
Re-envisioning testing and controls
When companies began implementing digitized processes, one should understand how to automate and digitize the control processes. Companies building automated control processes can monitor digitization risks more efficiently and effectively. Also, it will potentially minimize the time and cost in association with the compliance activities.
Reliability of Digitization at Times of Crisis
One may predict that economic conditions would change once the coronavirus is completely gone from the world. However, the businesses may not know when the economy can again take a downturn.
In that case, holding on to the plans of digitization is not a solution. Instead, organizations need to take a step forward towards the growth of digitization in the business and entertainment world.
No Return to Old Normal
The coronavirus has re-shaped the way people used to work and live. The behaviors developed during the crisis, such as wide-scale digital adoption, will continue even if the lockdown or restrictions get uplifted. Organizations should keep up the competitive spirits and respond positively to the behavioral changes to meet consumer's demands.
Thinking about Business Reinvention?
There are multiple reasons why businesses are facing economic crises due to the pandemic. The businesses such as gas and oil companies, retailers, and consumer discretionary manufactures are the most hit by COVID-19.
Businesses have no other option but to switch to digital channels or create a new digital business model. New business models made out of choice or opportunity can become the reason for a long-lasting business that helps them thrive even after the pandemic.
Save Money with Digitization
Businesses can control costs when they improve operational efficiency. Here, digitization is the best-suited solution to help the business to pass through financial turbulence.
According to Harvard Business Review, companies focusing on operational efficiencies will experience a breakaway performance. In contrast, the companies depending on layoffs have only an 11% chance of experiencing the breakaway performance.
Cost-Effective Solution
Digital transformation doesn't go with the heaviness of the word. The more complex and weight the two words carry doesn't mean it would require huge investment to uplift your business.
Most successful digital transformations begin with limited resources and low costs that scaled up in no time to produce successful results. When digitization is done correctly, it can be self-sustaining, where every incremental improvement will help in further payments.
COVID-19 Digital Trends Not Going to Return
It seems like you cannot run away from the pandemic and return to the "normal." You can embrace reality and work for a better future with digitization.
Take a look at the digital trends which are most likely to stay here for a long time:
Use of On-demand and Online Platforms
Stockpiling and Bulk-buying
Increased focus on Health, Safety, and Cleanliness
Customers focus more on saving and less on spending
Outsourced IT
Contactless Delivery
Self-Service
Switch to E-commerce
Digitization of Customer Service
Remote Work Arrangements
Final Thoughts
The acceleration of digitization has transformed the mindset of organizations from "good-to-have" to "must-have." Some organizations embraced and adopted digital systems smoothly, while the economic situation forced others to adapt. However, the pandemic has made businesses and the general public identify the benefits and opportunities of digital transformation.
If you need solutions for your business over digitization, Desuvit is here to help you out. With years of professional experience, we are here to provide you with long-term support. Contact us and let our experts devise a suitable plan for you based on your business requirements.
Desuvit is a Norway-born software development company delivering Custom Software Development, Mobile Apps, and Web Applications Development for various verticals and business domains. We offer end-to-end solutions for companies with no software or IT division, Startups, and companies that need to scale their software development efforts but lack the expertise required. We help our clients in growing their businesses so we can grow with them. Some of the technologies we work with: .Net, Azure, Microservices, Azure functions(Serverless computing), React Native, Flutter, React JS, TypeScript, Angular, NServiceBus, Azure Service Bus, Azure Queues, SQL Service, MySQL, Cosmos DB, etc.
Enjoyed this article? Subscribe for more valuable and great content !
Enter your email address below to get new articles with valuable content delivered straight to your inbox, plus special subscriber-only content to help you with your next mobile app or software development project.
By subscribing, you agree with our privacy policy and our terms of service.