Digitalization is a buzzword that has recently started to gain momentum owing to surrounding events.
As more and more companies and organizations are adopting digitalization, it's worth stopping and wondering. "What can digitalization do for a business?"
Is it simply about incorporating gadgets and different technologies in the workflow? 2022 will see a wave of hyper digitalization that will enable a business to be more efficient and strategic.
And yes, it can help any business save its three most valuable resources – time, space, and money. If digitalization looks like it can be a part of your business's plans, read ahead with us!
What Is Digitalization?
Gartner states that digitalization is adopting technologies by businesses to obtain more value-producing opportunities and develop new revenue channels.
Digitalization is a process that can apply to business activities for attaining more efficiency. Businesses today are leveraging digital technologies for processing orders as well as automating marketing strategies.
Digitalization can encourage efficiency and innovation and make it possible to include automation. With digitalization, companies will tend to steer clear of errors too.
Besides, digitalization assists in reducing operation costs by reducing dependence on human resources. It drives businesses towards their pinnacle. It has facilitated a smooth transition from traditional analog to digital. You'll no longer witness any MNC or a small-scale setup storing data in the form of paperwork.
How Does Digitalization Lend An Upper Hand In Business?
So, why should your business transit itself towards digitalization? It's beneficial and crucial to know in-depth about digitalization before you pave your way. In this section, we'll be discussing how digitalization can benefit businesses.
Streamlines Existing Business Processes
Do you know that the spending on digitalization and digital transformation is all set to hit the benchmark of $7.8 trillion in 2024? Businesses that have been running successfully for years now know that carrying operational processes is time-consuming.
Since time is of the essence for all businesses, most organizations are looking to save that. Companies are looking to switch to practices and processes that can save them time.
By employing cutting-edge digitalization, business processes such as analytics and storage have become more efficient.
Digitalization is assisting businesses to become more collaborative and adaptable. As a result, it's enhancing productivity and final results.
Create Ideal Environment For Growth
Digitalization can allow businesses to build a solid customer base through efficient processes. Automated workflows and better customer engagement practices enable any company to expand and diversify.
For example, a business devoid of online presence generates leads through word of mouth and retail stores. But, by developing a robust and optimized website, the company can be a magnet to more consumers.
With an online presence, the business has a better chance of reaching potential buyers. You can promote your products, interact, generate sales, and in turn, reap significant revenues. Through online presence, you'll have better insights into customer feedback and their behavioral patterns.
Empowers Workforce
Digitalization and technological advancements can help in empowering the workforce. Your workforce can have better day-to-day productivity with a more streamlined and quick workflow. Perhaps, the workforce might now be able to produce results quicker and with more effectiveness. It means that the workforce can capitalize on the efficiency.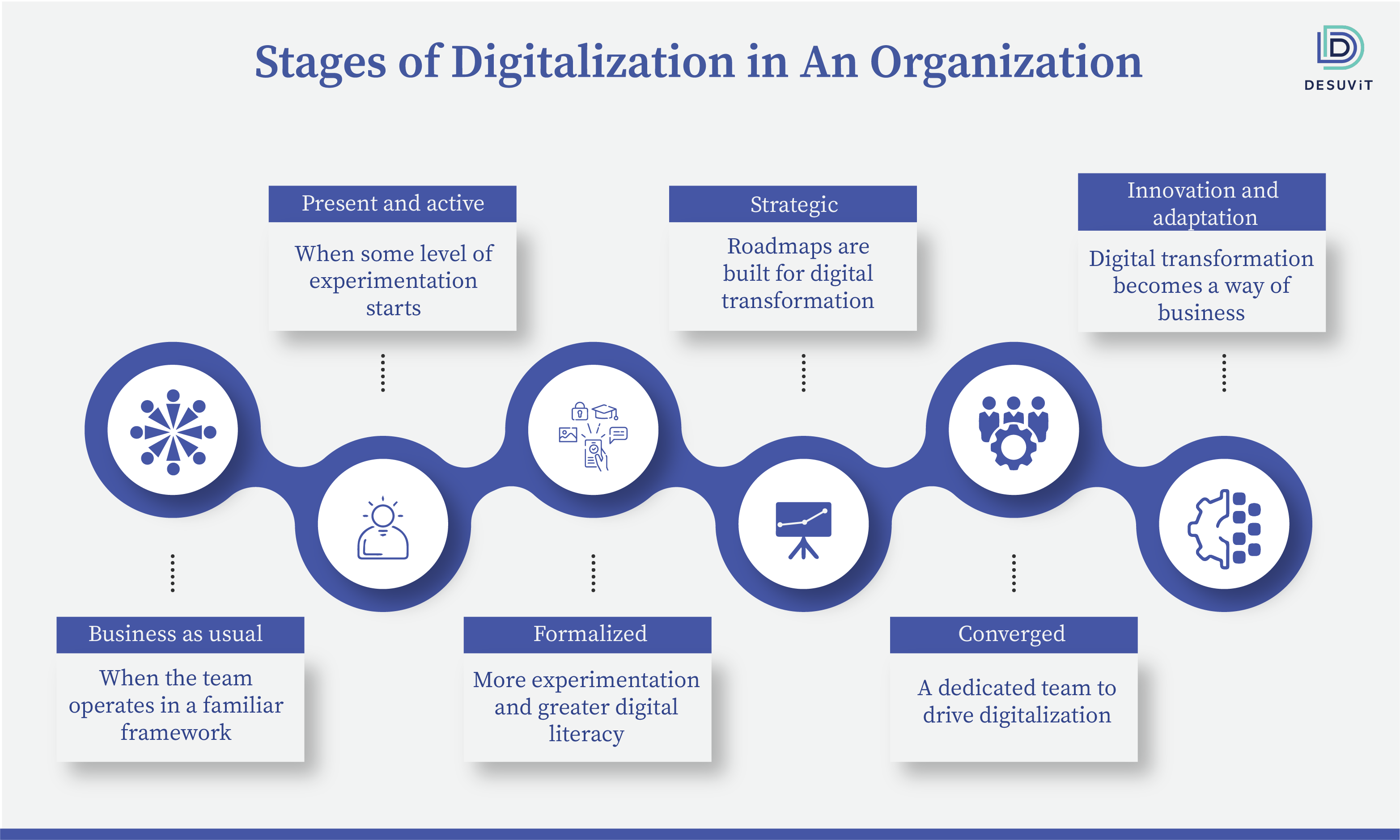 Encourages Out Of The Box Thinking & Innovation
As of now, only 23% are non-dependant on digitalization (digital products and services). In this modern world, it is not possible to deliver innovation without digitalization. In short, digitalization is more or less a prerequisite for innovation.
Moreover, to overcome the complicated challenges in today's business landscape, digital innovation is a must. Digitalization generates groundbreaking solutions for business problems.
Reduced Costs
These days, companies and organizations are carrying out low-cost experiments that were impossible in the past. What do you think allows this? Yes, digital processes and digitalization.
It is more manageable to set goals and test them in low-risk situations. This process gives companies better insights into the business's future and cost-effectiveness.
As an example, you can consider start-ups. Start-ups are the largest consumer of digitalization. Though the future of a start-up might be uncertain, however, they depend on evolving digital processes.
Also, businesses can adopt digital tools to have a better outlook on risk management. As mentioned above, having a streamlined process results in productivity and finally equates to cost reduction.
Impact of Digitalization on Consumer Behavior
With the help of digitalization, you can retain the connection to consumers. Consumers are using smartphones to ask sales queries, research, and whatnot! They are making purchases no matter where they are or what they are doing.
For instance, consumers spend the time commuting from home to office to surf e-commerce stores and purchase products. GlobalWebIndex claims that 54% of the users on social media use the platforms to research the brand and its products.
Also, because of the influence of technology, consumer expectations are at an all-time high. Consumers are expecting a more tailored, personal, responsive, and targeted experience.
A study by American Express reports that 50% of Americans dump their cart items because of a poor customer experience. Also, a difficult purchasing process pushed 74% of the people to switch to other brands.
How Businesses Have Embraced Digitalization
If you are looking for living proof of successful digitalization, here are some:
Walmart's Business Innovation
Walmart is the epicenter of the ongoing digital trends. It integrates shopping with digital experiences to survive the competition. For this reason, Walmart is trying to rope in more audiences by enhancing its mobile application. Also, it's doubling down on robots to sustain in this digital landscape. The retail giant is using robots for various laborious tasks such as mopping floors, tracking inventory, and unloading boxes.
Nike – Just Did It!
Nike is one of the world's best-selling athletic shoe brands. At one point in time, Nike hit rock bottom in its sales figures and marketing approach. However, the brand didn't hesitate. Instead, Nike moved forward with digitalization in mind. The company started to focus more on building a customer base through analytics. Today, Nike's eCommerce strategy is one of the strongest in the industry.
As a result of this technological change, Nike's stock prices went all-time high to $159 in 2021. In the past years, Nike has been using digitalization to produce concept stores and more. The brand is trying to improve customer experience through apps and online.
Final Thoughts
Five years ago, digitalization was the elephant in the room. However, the situation today with digitalization has changed. Digitalization has been making waves across all industries.
To encapsulate, its perks extend towards improving business efficiency, saving valuable resources, encouraging innovation & growth, and more. Now you know that introducing digitalization will help your business grow in multiple folds.
If you are willing to take a step towards digitalization, you should consider experts such as Desuvit. Reach out to us to help businesses make a smooth transition into digitalization. Digitalization can make or break your game. Contact us today and get your business workflow to be more productive and efficient!
Desuvit is a Norway-born software development company delivering Custom Software Development, Mobile Apps, and Web Applications Development for various verticals and business domains. We offer end-to-end solutions for companies with no software or IT division, Startups, and companies that need to scale their software development efforts but lack the expertise required. We help our clients in growing their businesses so we can grow with them. Some of the technologies we work with: .Net, Azure, Microservices, Azure functions(Serverless computing), React Native, Flutter, React JS, TypeScript, Angular, NServiceBus, Azure Service Bus, Azure Queues, SQL Service, MySQL, Cosmos DB, etc.
Enjoyed this article? Subscribe for more valuable and great content !
Enter your email address below to get new articles with valuable content delivered straight to your inbox, plus special subscriber-only content to help you with your next mobile app or software development project.
By subscribing, you agree with our privacy policy and our terms of service.