If you have meticulously designed and developed a mobile app, then you want it to be downloaded and used by people around the world.
Once you have gotten a few downloads, you are probably going to start looking for ways to increase your mobile app downloads. In that case, we have got just the list of tips to help you out!
1.   The Right App Icon
We know to never judge a book by its cover; however, we cannot help but be attracted to the best-looking books, video games, and apps! The app icon is the first part of the app anybody sees, so having the eye pleasing icon can make a good impression on users.
The icon needs to be eye-catching and stand out from the crowd, but having one too flashy can create the wrong impression. It is meant to be a clear representation of the app, like how the Instagram app has a camera to clearly denote the purpose. Make the icon simple, straightforward, and classy.
2.   Social Media Outreach
What was once a simple idea has now become the most important part of a marketing strategy. Anybody that requires their products to be seen and bought turns to social media.
Before you can get on any social media, you need a brand voice, or in this case, an app voice. Depending on your target audience, your social media posts need to have a certain tone. A game targeted at youngsters should not have business lingo in its Instagram caption.
Several large social media platforms can be used as a part of social media outreach.
When using social media to promote your mobile app, make sure to diversify your content. Content that consists solely of information regarding your app will bore your audience and not encourage any downloads.
3.   It's All In The Name
Names are extremely important in our society. Our own names reflect our cultures, heritage, and traditions. They are so important that we put thought and time into picking our pet's names and even name our houses! So, it is no wonder that an app name would hold so much significance.
Some of the most successful apps are the ones whose names stick in your head. Whether it is TikTok or Snapchat, the names are easy to remember and make an impression. Make the name concise, do not opt for something long-winded or too complicated to pronounce.
Make sure the name you are creating is unique and has not been used by another company. But, if you are having a tough time coming up with a name, several name generators will help you come up with a unique and memorable name.
While it is important to choose a unique name, do not let it be too obscure. Much like your icon, the name of your app needs to reflect what your app is about.
4.   Marketing Matters
However eye-catching is your icon, and unique is the name of your app, you are not going to see a marked increase in downloads until you market your app appropriately. Marketing is essential to making an app successful.
There are several different marketing strategies that you can use when marketing your app. Typically a marketing strategy is spread out over a few weeks or months, but you can also run a full campaign at once.
Whatever time limit your marketing strategy is aimed at; you need to spread the advertisements over several channels. Know your audience and market accordingly. If you are targeting a younger audience, make sure to use social media as much as possible, and so on.
5.   Use the Right Pictures
Every app store, be it Apple or Google, requires pictures in its description. The pictures used are extremely important to any user. It shows them a preview of what they are going to download, so let the pictures be of high quality and informative.
When choosing what pictures and screenshots to use for your description, make sure to use those that showcase the most popular and required features on your app. The more useful the screenshots in your description, the more downloads you are bound to get.
When posting the screenshots in the store, make sure to use description, instructions, arrows, etc. to show the different aspects of the app.
6.   Raving Reviews
If you are seeing a few downloads and people seems to really enjoy the app, then ask for reviews. This does not have to be from those who are actively downloading your app, but from influencers, critics, and other personalities with large platforms. These are the right people to approach who influences larger audience.
Mention that you are looking for feedback in the press releases you send out. Publications generally have someone on staff looking for new applications and products to review.
For real users of the game, you can offer incentives within the app. Say you offer coupon codes or redeemable prizes in exchange for a review. Incentives encourage people to leave positive reviews.
7.   Positive Promotions
Do not forget to use different promotions to get the news of your app out there. Word-of-mouth is still an important resource, even if it does look different these days. Using different promotional events can help you cause a stir around the app.
Starbucks is a clear example of how an app can make a revenue worth 3 million in merely 3 months with the right promotions.
8.   All Press Is Good Press
Make sure to diversify the kind of press you are targeting. If you are in the US, do not just approach US publications for reviews. Try contacting the foreign press, who are more likely to feature your app and boost its downloads. Pretty soon, other publications will follow and feature your app.
9.   The Key is Keywords
SEO is still an important part of bringing in the downloads. Using the right keywords in your descriptions and other copy will help rank you in search engine results. You can use the free Google Keyword Planner or any other SEO tool to find the right kind of keywords.
Wish to get better app conversions? Check if your mobile apps are in sync with the App Store Optimization (ASO) techniques.
10.  Users Are King
In the end, your app is catering to the user. If you want to get users to download the app, you need to know who your user is. Understanding the user is not just for your marketing strategy but to improve the app. Analytics help a developer understand what a customer wants out of an app and prevents them from deleting it altogether! Therefore, it is essential to be aware of and follow the best practices so as to have greater user retention.
Endnotes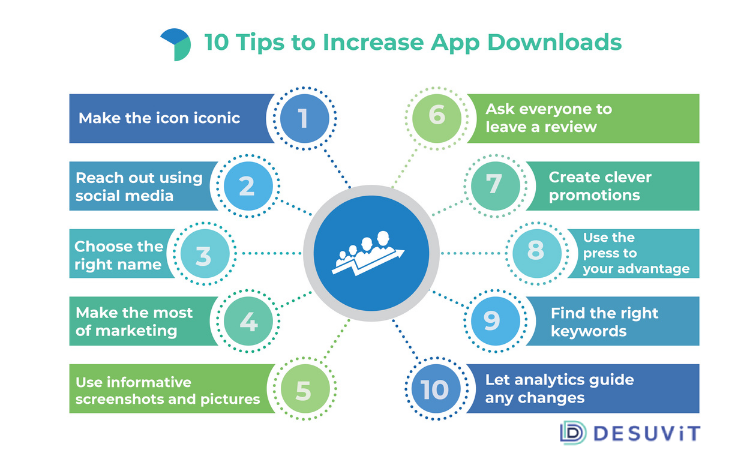 It can be hard to get noticed in a world full of applications for everything from medicine deliveries to those that edit your Instagram photos. While it is hard, it isn't impossible. With a few tricks, you will be raking in the downloads!
It is even better to have your mobile app develop and grow with the help of companies like Desuvit. Even if you are not sure how to proceed with the app's development, Desuvit will gladly be right by your side to help you with anything you require! Contact us to get free consultation to kick start your mobile app journey
Desuvit is a Norway-born software development company delivering Custom Software Development, Mobile Apps, and Web Applications Development for various verticals and business domains. We offer end-to-end solutions for companies with no software or IT division, Startups, and companies that need to scale their software development efforts but lack the expertise required. We help our clients in growing their businesses so we can grow with them. Some of the technologies we work with: .Net, Azure, Microservices, Azure functions(Serverless computing), React Native, Flutter, React JS, TypeScript, Angular, NServiceBus, Azure Service Bus, Azure Queues, SQL Service, MySQL, Cosmos DB, etc.
Enjoyed this article? Subscribe for more valuable and great content !
Enter your email address below to get new articles with valuable content delivered straight to your inbox, plus special subscriber-only content to help you with your next mobile app or software development project.
By subscribing, you agree with our privacy policy and our terms of service.