It is a major accomplishment for startups to keep their business moving towards stability and acceleration. They must deal with several difficulties and difficulties set by the unique circumstances arising from the current business atmosphere.
This necessitates incorporating things that allow startups to adapt to the changing market dynamics, customer needs, and operating conditions.
You can prep yourself by recognizing what kind of problems your startup may face this year. With such information, your startup can work on strategies beforehand to not let the situation get out of hand.
Continue reading to investigate what kind of problems your startup needs to pay attention to.
Most Common Challenges Faced By Startups
Here are some of the challenges that startups will have to deal with in 2021 to reach the success bar.
1. Digital Adoption
This is perhaps one of the more significant challenges that startups will face.
The best way to gain global scalability is by adopting a digital transformation strategy. A digital strategy has been important for startups as consumer habits become digitized with the changing times.
However, this is easier said than done for startups. They face barriers such as limited budget, lack of expertise on how to form a digital strategy, and so on. Nevertheless, startups will have to go digital and keep up with technological trends for sustenance and modernization.
Consumers worldwide are spending most of their days on mobiles and laptops. So, your business will thrive better when you go online. For instance, companies like Uber and Airbnb provide apps so customers can make purchases more easily.
Building Brand Discoverability with a functional and attractive website, and Mobile Apps
So, every startup must work on creating its online presence. A functioning and attractive website is the face of your startup, so it is important to spend time on creating the website which conveys the right message to your potential customers. Another way to make your brand discoverable is by launching your services through mobile apps. It is not just about offering convenience to your customers, but you as well. When you gain web and app users, you can push out notifications and relevant content for brand discoverability.
Websites and mobile apps also include shareable content. Your current customers turn into organic brand advocates who will share your content with the right audience.
Now, where do you begin with developing your website design and mobile application? It is especially challenging if you are low on technical expertise in your team. In that case, IT outsourcing is the best way to go.
Website and app development has become more affordable for startups with web development tools. These tools provide your development team with a variety of technologies to create responsive web and app designs.
If you want to develop mobile apps, then some technologies to keep in mind include React Native, Flutter, and Ionic. Read our blog to help you pick up the right technology for your use case.
2. Planning
Every startup will face some standard risks while trying to run an effective business. These risks are typically a product of uncertainty due to the changing consumer preferences, market, economy, and so on. Moreover, with the current rise of startups, you also have to prepare against fierce competitors.
Every competitor will fight for the dominant market share. That is why it is hard for newer companies to survive unless they have planned out various market scenarios.
Without a clear vision and direction of where you are headed, the startup can fail before it even starts. It is imperative for the success of your startup that you set your vision and plan out strategies and essentials which align with the vision. This means researching ideas, planning a business model, and monitoring its performance from time to time.
A thorough business plan allows startups to determine their financial situation, the business roadmap, analyze competition, and conduct market research.
3. Time Management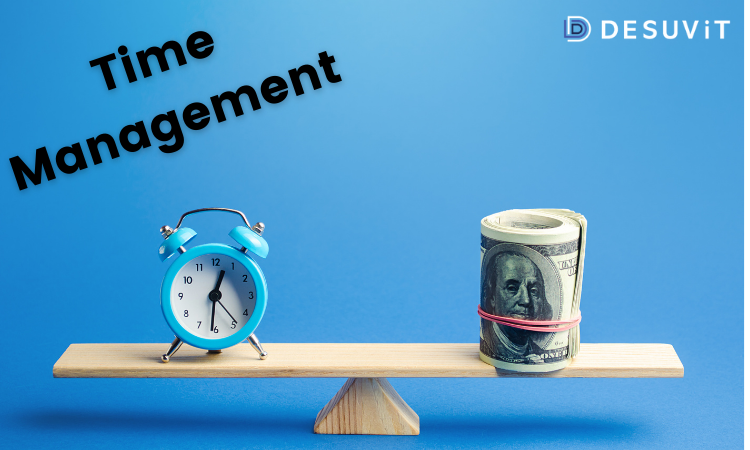 A startup can reach the gateway to success when it ensures that its deliverables are done on time. Otherwise, it will get left behind in the race against its competitors. As the saying goes, "time is money".
When working in a startup, there are a million things on your list and just 24 hours to finish them. Hard choices, therefore, must be made.
This means disposing or postponing any activity that is not directly helping you achieve your objectives. You can also utilize synced calendars and planners to make it easier to delegate tasks and achieve goals quickly.
Time management is not just for streamlining business operations but to make way for a positive customer experience. For instance, when startups delay the launch of a product or an app, customers can begin to lose trust and interest.
Because you have only 24 hours in a day and limited resources, it is important that the core team focuses on things that matter most and starts delegating/outsourcing things that either you do not have expertise on or can be easily done by someone else.
4. Cash Flow Management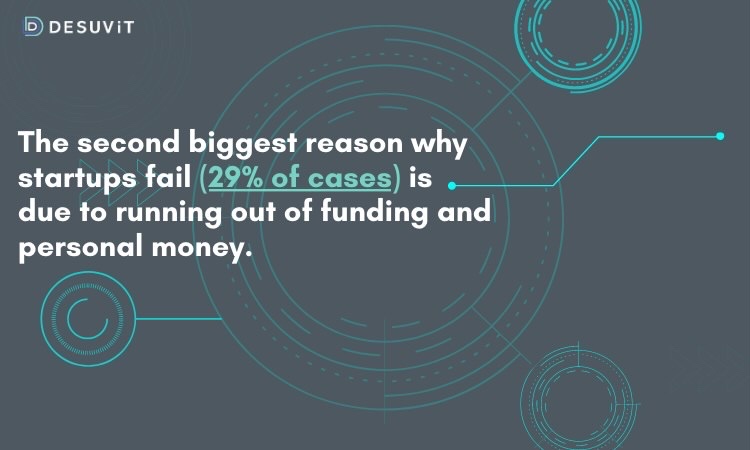 One of the main problems that startups this year will face will be regarding their finances. Many startups rely on investors' financial backing and even then require a few years before making a profit.
When the profit increases, so do your expenditures. You will need to manage your cash flow for digital solutions, software programming, product development, and so on. This is even harder to do while startups try to keep a tight leash on the cash and avoid unnecessary spending.
Startups should consistently lookout for ways to keep a tab on all the cash coming in and going out. There are many accounting software packages available online specifically for startups looking to automate bookkeeping.
Zoho, NetSuite, and  QuickBooks are cloud accounting software capable of handling startups trying to achieve scalability. They will grow with you as the volume and complexity of the transactions grow.
While keeping a check on the cost, start strategically delegating tasks to other partners/companies that can save you both time and money.
5. Automation Of Business Processes
Customers today have high expectations out of the companies they engage with. Unlike big companies, startups are often lacking in human and financial capital. This stunts your scalability.
Although human errors are natural, it also gets in the way of startups trying to achieve an efficient and effective workplace. As a result, your business growth again comes to a halt due to a self-imposed ceiling.
Software solutions can help startups streamline business operations by minimizing human error. Tedious tasks can be automated, so you and your colleagues can focus on the bigger picture at hand.
They also boost employee productivity by automating repetitive tasks and creating data insights and reports to recognize areas of improvement. AI-based tools will help your startup increase its speed, quality, and efficiency all at once.
For instance, if you need to track your potential leads and other sales activities, you can integrate CRM systems. Chatbots are also commonly used for 24/7 customer support services. Fast customer service response leads to loyal and satisfied customers.
Some popular business automation tools include Hootsuite, Google Analytics, and Zapier.
6. Delegation
To keep the bills nice and low, many startups fall prey to the belief that they can handle everything without help. However, as the startup grows, the increased workload will take a toll.
What you thought will save you money will actually result in a loss from losing customers over work quality. You cannot be the jack of all trades. So, delegate work to capable employees/partners who are specialists in their fields.
If you decide to hire such specialists, specify the job responsibilities and qualifications the candidate should have. Vague job ads will attract inappropriate candidates, wasting your time and money.
You can also outsource it to solution companies that help startups run operations to reach new heights. This may mean more expenditure, but it will also result in considerable time savings, assisting startups to focus on key business goals. Instead of going through the recruitment processes and ensuring the right hire, partnering with an IT Solutions company can help to get to speed quickly and efficiently. You should though ensure that you understand how to work efficiently with your outsourcing partner. Here are some tips to help you get maximum benefit from your outsourcing collaboration.
7. Team Management
Behind every successful startup are its employees.
Startups have a fast-paced working environment, which places a load of responsibility on the employees. Everyone is expected to work together to go beyond the job description and help the startup grow.
This may not happen as easily now when so many employees are currently choosing to work remotely. As a result, startups are required to focus on finding ways to encourages cooperation among distant employees. That is where collaboration tools come to your rescue.
Remote collaborative tools allow entrepreneurs, business executives, and other employees to manage an undisrupted workflow. These tools will help with messaging, conducting video/audio conferences, and online file sharing. Using tools like Azure DevOps, Trello, Jira, or Notion can help with project management activities, thus makes the communication more effective. For file sharing Google Drive,  Dropbox, and Microsoft OneDrive are some of the good alternatives.
Working remotely is becoming a norm, and so it is important that you know how to manage the remote teams for better productivity. This is help you to manage your team optimally and efficiently.
8. Marketing
A startup begins its journey from zero. For visibility in an industry saturated with big companies, you need a marketing presence that sets you apart from the competition.
A marketing strategy is also required for attracting new customers. That is why it is an essential spend that should not be underestimated. However, many startups end up failing due to a flawed marketing plan.
The biggest wrongdoing here is not prioritizing a marketing strategy from the get-go. If there is no marketing buzz surround your product or service before the official launch, the startup will go unnoticed.
This typically happens because startup owners may not know how to best go about their marketing plan. Startups do not have enough budgets for experimenting with different marketing methods. So, they need to perfect an efficient strategy that will guarantee success under budget.
You must develop a great showcasing plan that tells the audience why you are worth their time and money. Whether it is for an ad, a social media page, or a website, your marketing strategy should be information-driven. It should talk of startup vision and provide a solution to a present issue your customers are facing.
If you are not adept at this, do not be afraid to ask for help. Instead, reach out to marketing specialists or consultants for advice. They can tell you the best way to market your products or services while efficiently using your budget to maximize ROI.
9. Patience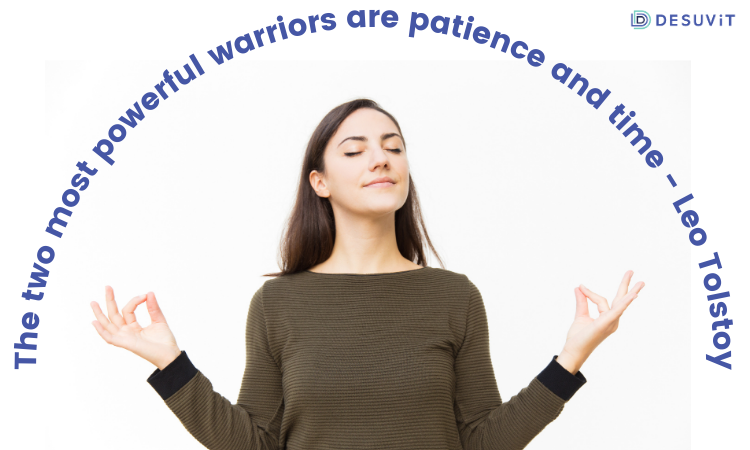 All good things come to those who wait. This applies to startups as well. When you devote all your time and energy to starting your business, it is reasonable to hope for big results. That is why many tend to back out of the startup game when they do not see the desired results as soon as possible.
However, the only way to succeed is by taking ample time to build a solid base for the company. You progress at a slow and steady pace, carefully tweaking different business operations like sales or funding.
See every roadblock as a chance to learn from failure instead of quitting. Patience and perseverance in such moments will act as your superpowers. If you hold on long enough, you reach a point where all your hard work pays off.
There is no single path that every entrepreneur can walk on to make things right. You must define your own way and take most of the right steps. If you are thinking to become an entrepreneur and ready to take the leap, stop, think, and make sure you are prepared.
10. Cyber Security
Digital advancements have helped startups with scalability, but it has also made things easier for cyber hackers. Even world-famous digital platforms like Facebook have experienced data leaks.
Many other organizations also face the danger of data breaches and viruses. Digital wrongdoings allow hackers to exploit any loophole present in the online framework of a startup. The increase in remote working means startups need to focus on setting up data privacy software programs for remote workflow.
You should consider employing a virtual private network (VPN) that uses encryption to protect a startup's records. There are also data storage specialists that startups can consult with for security advice.
When you install such networks, make sure to conduct training programs for everyone in the startup firm. With these measures in place, startups eliminate the possibility of unapproved access to information on their web.
Summing Up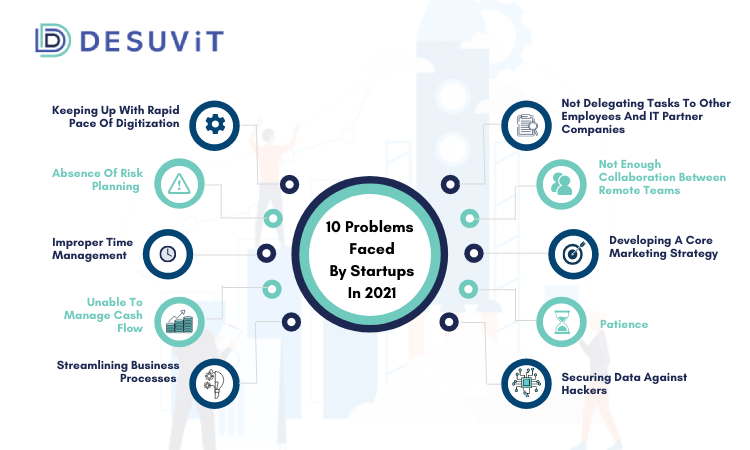 This article has established there is no single solution to the ever-growing problems startups face in this day and age. You will have to analyze what problems you currently face, the process that requires improvement, and your pool of resources.
As you analyze every problem, you will notice they all center around the concept of digital transformation. While it may not be the only priority, it definitely streamlines your operations and makes your work a lot easier.
With some planning and commitment to a digital strategy, you can get ahead of competitors in no time. So are you ready to take your startup to the next level? If yes, reach out to us! We provide IT Solutions Development, Mobile App Development, and Web App Development that will turn your brand digital to fit your business goals.
Desuvit is a Norway-born software development company delivering Custom Software Development, Mobile Apps, and Web Applications Development for various verticals and business domains. We offer end-to-end solutions for companies with no software or IT division, Startups, and companies that need to scale their software development efforts but lack the expertise required. We help our clients in growing their businesses so we can grow with them. Some of the technologies we work with: .Net, Azure, Microservices, Azure functions(Serverless computing), React Native, Flutter, React JS, TypeScript, Angular, NServiceBus, Azure Service Bus, Azure Queues, SQL Service, MySQL, Cosmos DB, etc.
Enjoyed this article? Subscribe for more valuable and great content !
Enter your email address below to get new articles with valuable content delivered straight to your inbox, plus special subscriber-only content to help you with your next mobile app or software development project.
By subscribing, you agree with our privacy policy and our terms of service.