The rise of smartphones has completed changed the perception of consumer habits.  With millions of apps available on the Apple Store and Google Play, you will see an app for just about anything.
Since mobiles have become such a powerful medium, it is the best place for marketing your brand. However, many companies make the mistake of rolling out apps without a clear marketing strategy for them. Read on to know more about how to avoid such app marketing mistakes.
App Marketing Mistakes To Avoid
Here is a list of fails from which you can learn how to market your app successfully.
1. Launching App Without A Marketing Strategy
With so many apps available in the app stores, there is a good chance that your app will go unnoticed. That is why behind the launch of every successful app, lies an efficient marketing strategy.
Your marketing team should create a timeline that will detail the marketing plan for every stage of pre and post-launch. For instance, you will need to create an online buzz about your app on the company website and social media.
2. Ignoring App Store Optimization
As there is SEO for website optimization, there is also App Store Optimization (ASO) for apps. However, many people are unaware of the importance of app titles, keywords, and app descriptions.
You need to proactively look for ways to optimize keywords in title and description to increase app stores' discoverability. ASO tools like App Annie and App Radar offer valuable returns with boosted download numbers.
These tools must be used early on so that you have time to test and optimize keywords for desired results.
3. Forgetting About User Retention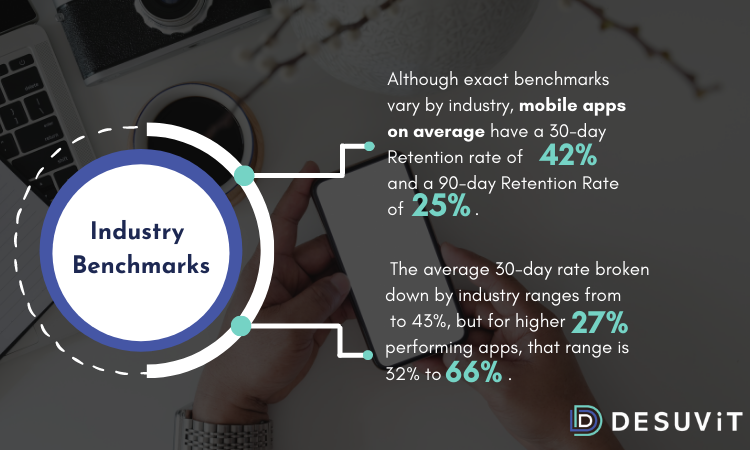 While new downloads are beneficial, you also do not want to forget about the people already using the app. App users only come back when they feel there is some advantage of doing so.
You should check engagement metrics to see what users are engaging with the most. This way, you will know what features are loved by your users, and what updates you can add to areas of improvement.
You can also add engagement triggers like notifications and app-exclusive bonuses to keep both your old and new users engaged. Make sure you are following the best practices for better user retention.
4. Not Building Platform Specific App
Many companies try to pass off their mobile websites or hybrid apps as native apps to save time and money. While this can help launch an app quickly which is app-like, but it might not necessarily make your app successful. Innovative technological solutions today have set the bar of a successful app very high.
Customers look for native apps because these apps offer user personalization. Mobile websites and hybrid apps will cause the customers to lose interest and uninstall your app. Cross-platform App development tools like React Native, Xamain, and Flutter can help you build a near-native mobile app experience while keeping the development cost low.
Do you need some assistance with picking the right technology for your mobile app development? Check out our blog on Which Technology to Choose for Your Next Mobile App Development.
5. No Communication With App Users
Many big brands make considerable investments in making apps but forget to open communication lines between them and the customer.
This is a fatal mistake that can result in the app's downfall as customers prioritize responsive customer service. You can use communication tools to allow customers to leave reviews, feedbacks, and queries.
Such communication will also do wonders for your app marketing. You will find out what is working and what is not through firsthand experiences.
Summing Up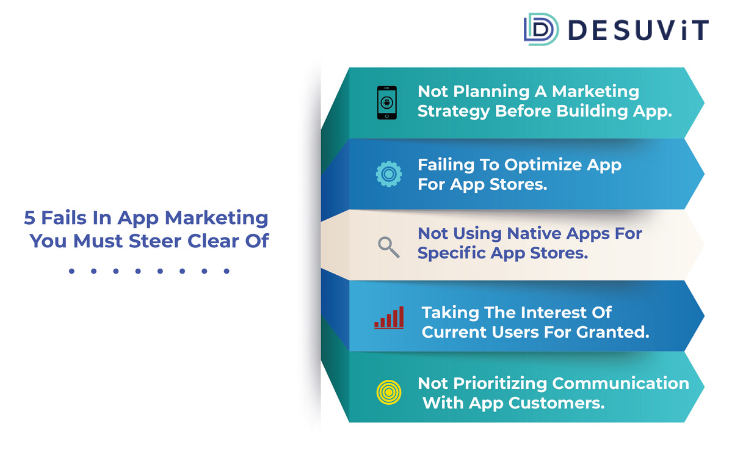 When marketed correctly, apps represent a quick and innovative way to stay connected with your audiences. So, plan your marketing strategies upfront before any app launch.
While planning a marketing strategy, you can leverage smartphone devices' unique features to offer users something of lasting value. If you are unsure of what these features can be, Reach out to us!
We develop custom mobile app strategies that are true to your brand vision and provide value to your customers.
Desuvit is a Norway-born software development company delivering Custom Software Development, Mobile Apps, and Web Applications Development for various verticals and business domains. We offer end-to-end solutions for companies with no software or IT division, Startups, and companies that need to scale their software development efforts but lack the expertise required. We help our clients in growing their businesses so we can grow with them. Some of the technologies we work with: .Net, Azure, Microservices, Azure functions(Serverless computing), React Native, Flutter, React JS, TypeScript, Angular, NServiceBus, Azure Service Bus, Azure Queues, SQL Service, MySQL, Cosmos DB, etc.
Enjoyed this article? Subscribe for more valuable and great content !
Enter your email address below to get new articles with valuable content delivered straight to your inbox, plus special subscriber-only content to help you with your next mobile app or software development project.
By subscribing, you agree with our privacy policy and our terms of service.