Automation propels innovation, catering to the business needs of different industries. Selecting intelligent automation helps in scaling the businesses and its need end-to-end. High-end smart automation platforms developed by giant tech companies turn work into less work and enable turning unstructured data into a problem-solving opportunity on a single platform or cloud.
Across industries worldwide, automation has become the key to success.
It is now no more reserved only for big corporations. SMBs have started incorporating automation in every aspect of business, like applying CRM, HR, Marketing, and Sales.
To say that these have been turbulent times for businesses worldwide would likely be a gross understatement. The global pandemic has changed customer behaviors, strained supply chains and marketing budgets, and exposed operational vulnerabilities. But even before the COVID accelerant, small business automation was the pathway to business transformation and digitization.
Indeed, small and medium-sized businesses (SMBs) have seen the need for automation firsthand. 63% said automation helped them endure the pandemic, and more you see the opportunities therein.
That said, digitization through automation can be a vast, costly endeavor that only some are prepared to manage. Many may have fewer needs than smaller budgets, discouraging automation adoption. And yet, one can safely argue that a strategic, calculated approach can yield ample, substantive, and cost-effective benefits.
What is Business Automation?
To illustrate this, we can begin with the basics, defining business automation.
IBM says that "business automation is a term for the use of technology applications that perform repetitive tasks, freeing up employees for higher value work." Focusing on Business Process Automation (BPA), a crucial subset of business automation, Gartner provides a similar definition; "the automation of complex business processes and functions beyond conventional data manipulation and record-keeping activities, usually through the use of advanced technologies."
Small businesses may deem automation less helpful. They may dismiss small business automation outright with a smaller scale and fewer operational components to manage.
However, businesses of all sizes have ample candidates for automation; repetitive tasks are entirely unavoidable. All companies can benefit from making these processes less time-consuming and less prone to human error. Among other automation benefits, business growth is always a worthy goal.
In addition, as the definitions above outlined, automation comes in different types. Among them, as we'll illustrate just below, are varieties of small businesses that can employ strategies to best suit their needs and budgets.
Types of Automation to Consider
Specifically, here we can go through the different small automation businesses can consider. We won't cover every type and subtype for brevity, but the leading five in this context are the following.
#1 Customer Relationship Management (CRM) Automation
Among the most common and well-known types of automation is CRM automation. Leveraging CRM solutions, this automation streamlines repetitive tasks like customer information input, lead status updates, and more. Such solutions include HubSpot, Zoho, SalesForce, and others.
Research suggests that 90% or more of all businesses with 11 or more employees now use CRM. This is arguably the most embraced type of small business automation available. Still, if you haven't been using one, you do need to ask yourself some questions on how to choose a CMR system:
What exactly do you need one for? CRM solutions differ significantly, and the market is full of different needs options. An industry-specific solution may also work best.
Do they integrate with your existing tools? This is crucial for all automation tools; they must fit into your established workflow instead of disrupting it.
Are they easy to use? For many reasons, often user-related, less than half of all businesses report end-user rates of over 90%. Ease of use is a fundamental quality to address this challenge.
Finally, as with all such solutions, it's crucial to remain focused on your end goals. Paying for features you don't need or introducing assets you won't use can distract more than help.
#2 Marketing Automation
A similarly popular type that overlaps with CRM comes in marketing automation. This is an expansive type of automation, including all types of automation applications in marketing. As such, it can consist of the following:
Email marketing. Still the king of marketing for many, this channel has ample automation opportunities. Welcome emails triggered emails based on actions taken, and drip campaigns are a few examples. MailChimp, Marketo, and other prominent names are among the available solutions for this type.
Social media marketing. Another prominent marketing channel ripe for small business automation, social media platforms offer excellent opportunities for business growth. Automation can streamline post output via scheduling, collect cross-platform audience input and data, and more. HootSuite, iContact, and other social media automation tools are noteworthy examples.
Pay Per Click (PPC) marketing. An increasingly lucrative type of marketing, alongside Search Engine Optimization (SEO), PPC also lends itself perfectly to automation. PPC tools like Report Garden, Swydo, and Google's integrated tools offer immense automation conveniences like automatic ad adjustments, more robust reporting, and more.
#3 Process Automation
Process automation is the third type that often finds applications in tandem with the above. Often referred to as business process automation (BPA), this type caters to such repetitive processes as:
Order entry, where dedicated software streamlines order processing
Report generation, where BPA automates data collection and formatting
Employee onboarding, where HR-minded BPA software facilitates information forms, document collection, and so on
However, this is quite a vast type, so it tends to be defined more loosely than most. The term "business process" can include an array of processes, so even software like CRM, chats, and social media management solutions may fall under this umbrella.
Notably, Robotic Process Automation (RBA) is a notable subgroup of this type. It is likely less valuable in the context of small business automation, however, so you may consult our dedicated article on it at your leisure.
#4 Accounting Automation
The fourth type comes in accounting automation. True to its name, this type seeks to automate repetitive, time-consuming processes like:
Payroll management
Expense management
Bank reconciliation
Accounts receivable (AR) and accounts payable (AP)
Tax compliance and financial reporting
Such accounting task automation becomes more useful as one upscales, of course, but it remains a useful one to note. Examples of such solutions include QuickBooks and NetSuite, among others.
#5 HR Automation
Finally comes HR management as an equally scalable type of automation. This type can find ample use in larger businesses with active HR departments, as it typically focuses on the following:
Recruiting, where automated recruitment processes keep relevant materials available and consistent, collect resumes, and more
Onboarding and offboarding, where automation lifts the burdens of granting and revoking access privileges, distributing relevant assets and documents, and so on
Time management, where automation can minimize the risks of manual entry errors
This type may also see less use from smaller businesses, but it is still noteworthy. Over 50% of the HR department's time is spent on manual processes ripe for automation, after all. Examples of solutions for this type of automation include Asana, BambooHR, and TimeCamp, among others.
Tips and tricks for Small Business Automation
Now, with all of the above in mind, a small business can only likely embrace some automation at once. The process must be incremental, focused on avoiding disruptions, and cost-effective. As such, consider the following as you explore this front of digitization.
#1 Identify repetitive tasks
As with all business solutions, you should not embrace automation aimlessly and wholesale. Instead, it should be adopted on a problem-solving basis. Thus, the first step toward determining your optimal choices should be identifying the repetitive tasks it would address.
You can review your workflows and operations for this fundamental step to reveal room for automation. Depending on size, scope, existing solutions, and more, this will differ from one business to the next. As such, you're best qualified to determine which repetitive tasks you can best automate to save time and focus on more creatively demanding ones.
#2 Review processes for manual errors
Beyond saving time, automation has the notable benefit of reducing human error. This is quite the ever-present problem to solve, and quite a costly one at that. 95% of business leaders "have seen poor quality data undermine their businesses' performance" – a staggering figure. A 2016 IBM estimate quantifies its business cost in the U.S. alone at a massive $3.1 trillion per year.
In this regard, data collection and input automation can significantly reduce the cost of human error. Review your processes under this lens to determine what small business automation solutions can do for you.
#3 Start small and expand over time
Considering the above, it is no less crucial to be modest about automation adoption. Yes, the field is absolutely vast; machine learning and AI are optimizing business processes like never before, for instance. It can be stimulating to delve into the various applications of automation, but it always needs to be on a problem-solving basis.
As such, a simple but always necessary tip is to start small. Address your business's most pressing automation needs and its most glaringly underperforming areas, such as CRM and BPA solutions. You will find this approach sufficient in many cases until your expanding business operations require more.
#4 Always integrate
As you do, and ideally before you expand, it's just as vital to ensure proper integrations. Any automation to benefit your workflows needs to integrate seamlessly without disrupting them. Should it not, it may cause more trouble than it's worth – damaging your operations or simply staying too isolated to use appropriately.
A glaring example of this comes from CRM adoptions beyond initial adoption rates. 17% of CRM users report a lack of integration with other tools as a primary adoption challenge. To avoid such challenges with small business automation, carefully examine your candidates and ensure they can synergize with your existing workflows and assets.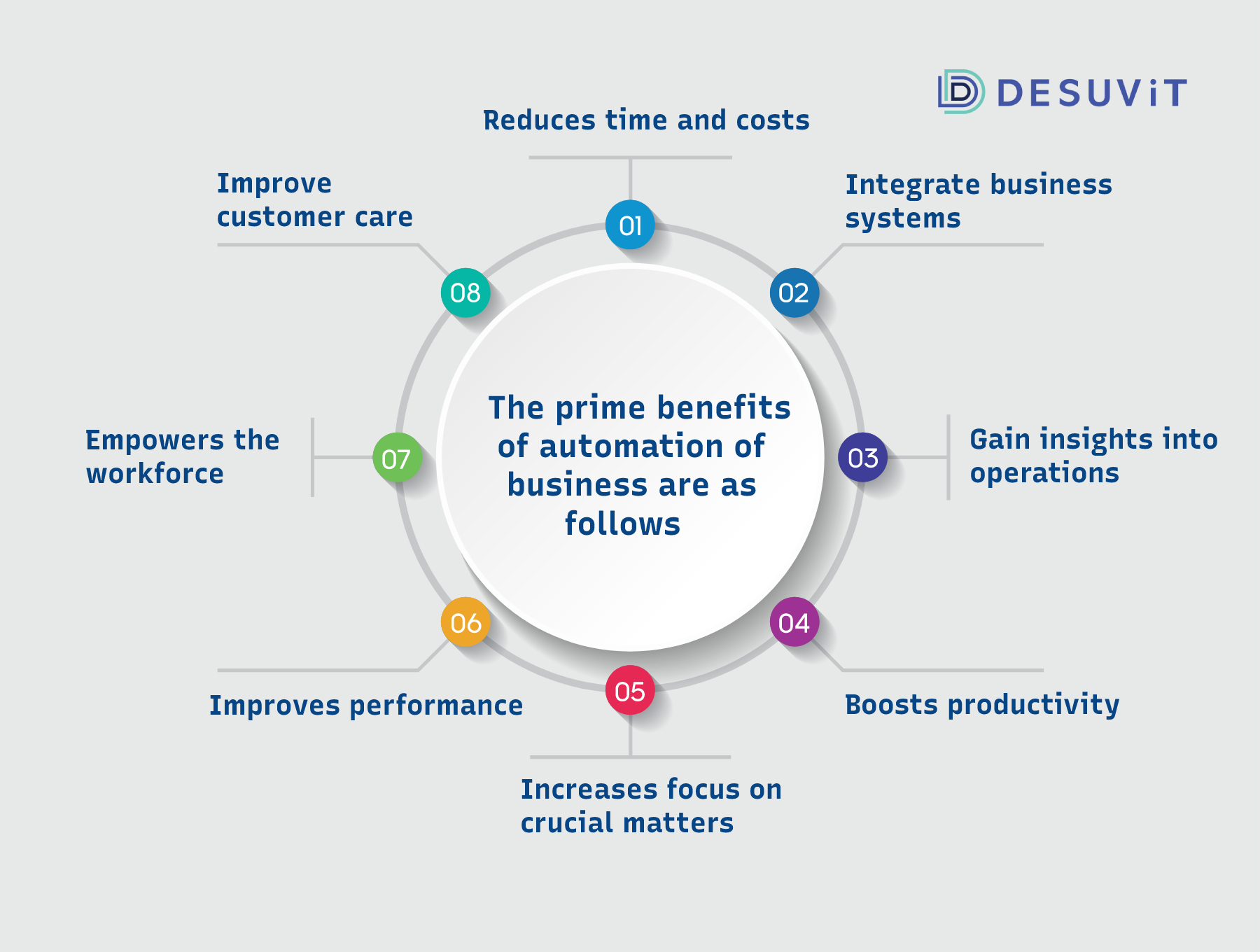 #5 Remain cost-aware
Finally, and crucially for tighter budgets, you must remain cost-aware. This is necessary to begin with as you choose the automation types that make sense for you. It becomes vital within individual types, too, as many solutions will come with an overabundance of features.
Business software markets are pretty competitive. Alongside other factors, this has encouraged providers to enrich and diversify their solutions – often through highly specialized features. While welcome, you may carefully examine such features as they come with a price tag. Approach this with a problem-solving mindset, and filter out the features you likely won't need. Maintaining this mindset will help ensure you're not paying for bells and whistles but only for what benefits you.
Conclusion
To summarize, automation offers vast and enticing new frontiers. It did accelerate in response to the global pandemic, but it existed long before as an effective tool for business. As automation maintains its stride and evolves in new, accessible ways, it presents an invaluable business asset for SMBs. It can automate repetitive tasks to save valuable time, reduce human error, improve performance monitoring and reporting, and more.
Small business automation requires a strategic, calculated approach to ensure cost-effectiveness and avoid straining one's budget. Remaining goal-oriented and adopting automation on a problem-solving basis is always the safest way to do so.
Desuvit is a Norway-born software development company delivering Custom Software Development, Mobile Apps, and Web Applications Development for various verticals and business domains. We offer end-to-end solutions for companies with no software or IT division, Startups, and companies that need to scale their software development efforts but lack the expertise required. We help our clients in growing their businesses so we can grow with them. Some of the technologies we work with: .Net, Azure, Microservices, Azure functions(Serverless computing), React Native, Flutter, React JS, TypeScript, Angular, NServiceBus, Azure Service Bus, Azure Queues, SQL Service, MySQL, Cosmos DB, etc.
Enjoyed this article? Subscribe for more valuable and great content !
Enter your email address below to get new articles with valuable content delivered straight to your inbox, plus special subscriber-only content to help you with your next mobile app or software development project.
By subscribing, you agree with our privacy policy and our terms of service.